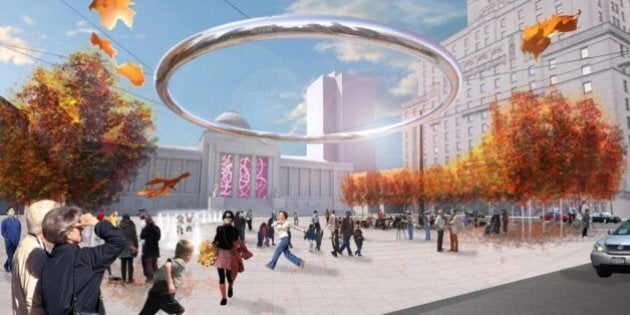 The City of Vancouver revealed three new potential designs for the art gallery's tired-looking North Plaza yesterday, and wants the public's input.
Mock-ups on the city's website show three different proposals for the redevelopment of the square at West Georgia and Howe streets, including a shallow concrete pond, a stone waterfall, and a large floating ring that could hold lights to illuminate the square.
The city held an open house Tuesday to show off the designs, which were developed after public consultations in October and November of 2012.
In surveys, respondents said they wanted the new space to be minimalist and functional, without advertising or green space.
While all three proposals are modern and intended to make the space "as flexible as possible", all of them are missing a familiar feature of the square: the bark mulch.
The province will also remove the square's stone fountain which the city says on its website, no longer works.
While a desire to improve the square's appearance definitely fueled the $3.2-million redesign, another reason is more urgent: the waterproof membrane underneath the square is degraded and leaking water into the lower floors of the art gallery below, CBC reported.
Architect Matthew Soules, whose firm is one of the four behind the design proposals, told the Georgia Straight he envisions the North Plaza as Vancouver's "outdoor living room."
The plaza, which opened in 1911 when the art gallery building was then the city's courthouse, has been a major hub for events downtown in recent years, including the 2010 Winter Olympics and the Vancouver International Jazz Festival. It was also the staging ground for the 2011 Occupy protests.
Take a look at the three proposed designs below.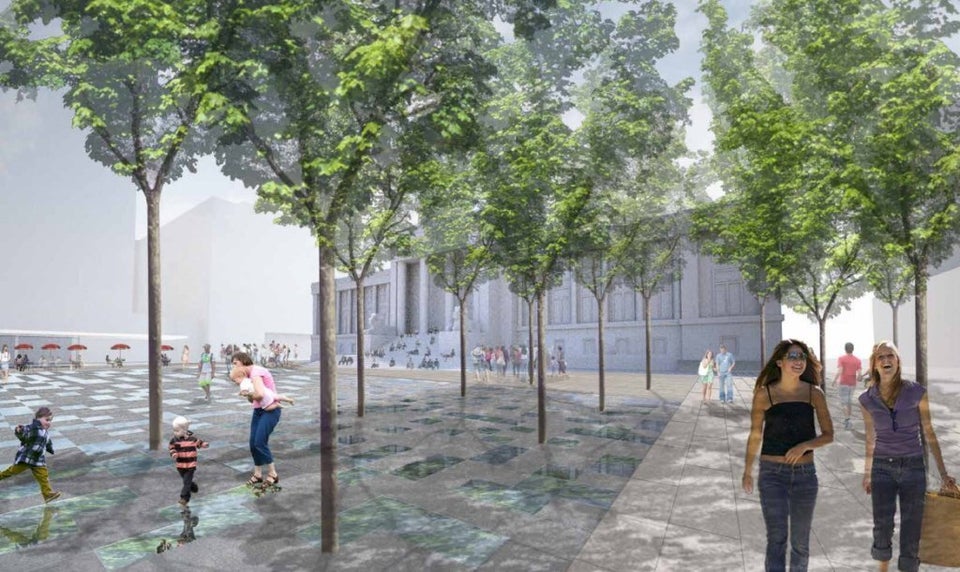 Vancouver Art Gallery North Plaza Designs