OKOTOKS, Alta. - The first to respond to the Canadian luge team's call for financial help provided grocery-bill relief with a lot of beef.
Less than a week after the lugers slapped "For Sale" stickers on their helmets, they wore race suits and cowboy boots to a cookout in the Alberta foothills southwest of Calgary on Monday.
Cattle rancher Mark Barnert donated a cow from his Pin to Point Gelbvieh farm to six members of the national team.
"They straight up gave us beef," slider Alex Gough said. "We got a cow we split six ways."
"It was nearly 100 pounds of beef. My freezer is full. That'll keep me going for all the beef I eat for at least the rest of this year and probably into next spring."
Barnert runs a construction company and a small herd of about 40 cattle. He estimates his grass-fed beef would sell for about $3 per pound in the grocery store. While not certified organic, Barnert says he doesn't inject his animals with hormones.
"We've given them a whole cow so they have some extra meat and some extra protein," Barnert said.
His son Jeremiah is a strength and conditioning coach for the luge team. Barnert is a high school wrestling coach and daughter Cassidy is a kinesiology student and wrestler at the University of Calgary.
"I feel that nutrition is huge for helping athletes develop because they are training so much," Cassidy said. "They need all the help they can get, whether it's food or money to put them to the next level."
Gough, Arianne Jones, Kimberly McCrae, Sam Edney and the men's doubles team of Justin Snith and Tristan Walker posed for pictures Monday with Cassidy's cow Zena, who obligingly stood still when a sliding helmet was placed on her back.
She will not end up on the lugers' dinner plates because Zena is used for breeding purposes and the lugers already have a portion of their donation in their freezers.
Alberta is cattle country and with the six sliders from the Calgary area, it's not an unusual partnership, said Gough.
"It's not a huge leap, especially for a province known for their beef, so hoping other ranchers and people in the cattle industry will step up and realize that there are unique ways to give back and it's doesn't always have to be a financial contribution," she said.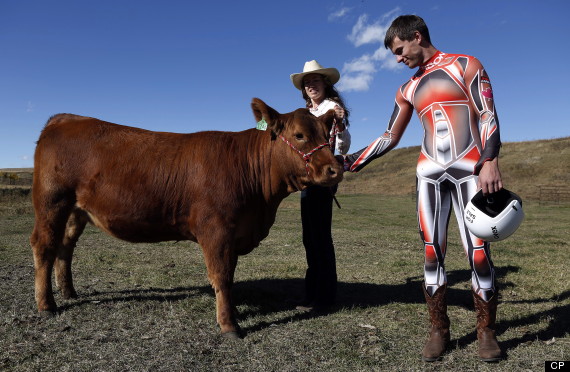 Barnert pointed out that the Alberta Cattle Commission sponsored swimmer Mark Tewksbury, who won backstroke gold at the 1992 Summer Games.
The luge team lost the title sponsor they'd recruited with their first "For Sale" campaign in 2009. It was a five-year partnership with a financial investment company worth $1 million, but the company couldn't fulfil the final year of its commitment.
The lugers are poised to produce Canada's first Olympic medal in the sport at the 2014 Winter Games in Sochi, Russia. Gough has a pair of World Cup victories, nine other World Cup medals and two world championship bronze medals over the last four years.
The team relay makes its Olympic debut in February. Gough, Edney, Walker and Snith won silver at this year's world championship and bronze in 2012.
While the team will receive $973,000 from Own The Podium this winter, that money goes to athletes who have demonstrated medal potential.
The Canadian Luge Association needs corporate sponsorship money to spend on its national junior and grassroots programs.
The luge team is still looking for sponsors to contribute any amount they can.
"We're a small fish in the pond," Barnert said. "They're trying to fill that pond."
With up to three training sessions a day, Edney estimates he needs to consume between 3,000 and 5,000 calories per day to recover.
"It's organic, grass-fed, which is the big thing because it produces a very low-fat meat," Edney said. "That's a hurdle we don't have to then overcome, which is trying to eat the best quality of food on what are usually small budgets.
"Even my dog has some bones he was given, so he's eating happy."
Also on HuffPost