 Fall is here, and there's nothing anyone can do to take that away from us. We have earned fall. We've sat through summer heat and sweating through nice clothes and cursing our choice to live anywhere humidity exists, and this is our reward: autumn. Crisp air, layers, dark colours, and our ability to actually hold a hairstyle – this is our time.
So obviously we want to write about it as much as we can – particularly in terms of fall beauty tips you can adopt for the next few months. (Then it's winter. And then you're on your own. Just kidding – somehow it gets even better then.)
Story continues below slideshow: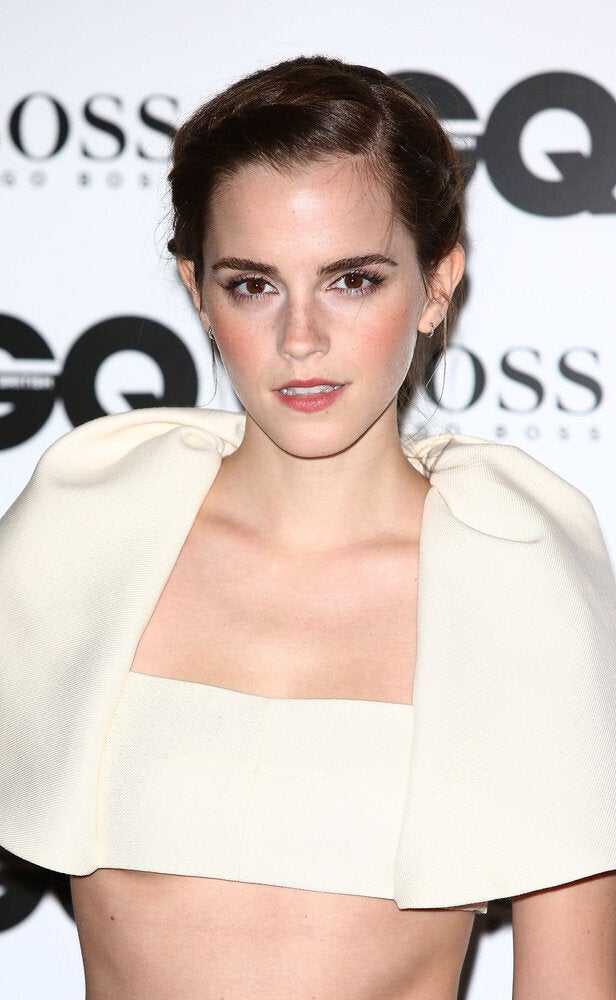 To do it yourself: Stop plucking anything but strays (it'll be a frustrating few weeks, but it'll be worth it), and fill in using shadow and a slanted brunch or an eyebrow pencil.
To do it yourself: Pick a tone, and apply as much as you want, whenever you want. Just re-apply since fading can make you look like you've been pulled out of the sea.
The cat's eye has never gone "out" (and don't ever let anyone tell you otherwise), but with '50s and '60s-inspired styles on the runway, the classic look is showing up on everyone, everwhere.
To do it yourself: Apply a thin line along the lashes, and then once you hit the edge of your eye, flick upwards towards your eyebrow. Then, fill in. Best news: in terms of eyeline, there's no such thing as "less is more."
There's a certain traditional femininity to fall 2013 fashion (we chalk it up to the English rose looks of "Downton Abbey"), and autumn's blush trends are a testament. However, while most designers kept their models' cheeks vibrant and rosy, "Downton's" Michelle Dockery opted for a more natural approach at the 2013 Emmys, giving her cheeks a healthy glow, but while still staying true to her porcelain complexion.
To do it yourself: Choose a colour that complements your skin tone, and apply as much or as little as you'd like with a big makeup brush. Then blend. Blend like you've never blended before.
Every so often, a season ensues that results in creative freedom. Enter: Fall/Winter 2013, and the "anything goes" attitude in terms of hair.
To do it yourself: Use your flat iron to create curls and waves, and brush out for that retro vibe.
To do it yourself: Blow dry hair after adding volumizing mousse or product, straighten, and then tease from the roots with a comb or small bristled brush. Make sure not to over-straighten the roots, though – otherwise teasing isn't going to work.
Meanwhile, to balance out fall's dramatic lips, eyes, and everything else, we present: nude nails, worn by the likes of Jennifer Lawrence and "Girls" star Allison Williams and was seen everywhere at the 2013 Cannes Film Festival and this year's Emmys. It makes sense: with a season rich in colour and drama, you've got to choose one trend to ease up on.
To do it yourself: Apply an undercoat, then paint on any "nude" colour you like. But don't forget topcoat!
Cat's eyes are one thing, and smokey eyes are another. However, while both are beauty staples, there's been a unique take on the trend this fall – dark coloured eye shadow (not just dark neutrals) worn with shimmer.
To do it yourself: Using a slanted brush, apply the darkest colour to the crease of your eye, then blend a slightly lighter colour on the lid. Under the eyebrow, apply a light, highlighting tone, then brush on (or use your fingers) a light colour to make the look pop.
"But you just said dramatic lips were a thing!" you yell, after having bought 16 lipsticks. It's okay: they are. However, on the flipside, nude lips are a perfect way to help dark eye makeup stand out without seeming like you're overdoing it.
Keira Knightly knows what's up: using nude lips to offset her bright purple eye shadow, she keeps her look balanced by allowing eye makeup to stand out on its own.
To do it yourself: Find a lip colour that's a little darker than your natural shade (you don't want to look like a corpse), and apply at will. Just make sure to make your eyes stand out so that you don't seem like a canvas.
In spring and summer everything shimmers – partly because it's trendy, and partly because all of us are sweaty and we may as well make it seem intentional. However, this fall we welcome the "matte" look; the more "finished"-centric. Even if you're going for a natural style like Amy Poehler at the 2013 Emmys, you keep blush and powder matte – and especially so if you're opting for dark lips, dark eyes, and everything "drama" represents.
To do it yourself: Keep a finishing powder on hand, just to take away any excess shine or sheen. Don't load up on regular powder, though, or you'll dry out your skin while clogging your pores.