When in doubt, go with the pandas.
Foreign Affairs Minister John Baird tweeted a pretty funny photo from China on Thursday that really captures his softer side.
Frank and open discussion in my first tête-à-tête with friends of Er Shun and Da Mao. Building Panda to Panda ties. pic.twitter.com/ihOuv9eRAc

— John Baird (@HonJohnBaird) October 10, 2013
Baird joked that he is building "panda to panda ties" with friends of Er Shun and Da Mao, the pandas China loaned back in March who are currently residing in the Toronto Zoo.
The delivery of the furry animals to Canada last winter was seen by many as a sign of friendlier ties between the Harper government and China's Communist leadership.
But Prime Minister Stephen Harper was criticized for taking the time to greet the pandas in Toronto, instead of meeting with a group of Cree youth who marched 1,600 kilometres to Parliament Hill in support of the Idle No More movement.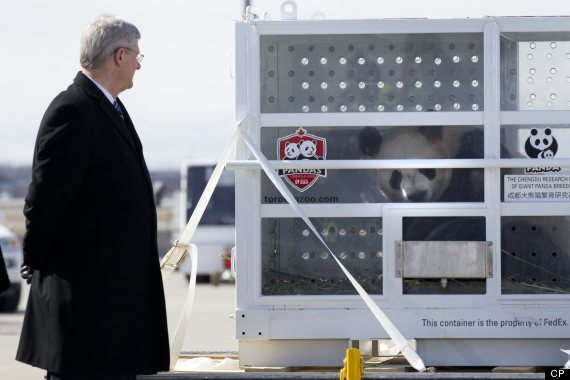 Harper also took some photos with pandas during a trip to China in 2012, including this gem: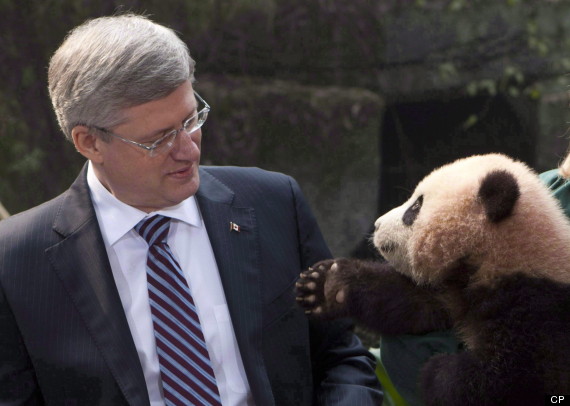 Of course, Baird's tweet comes after a much-publicized spat with the Maldives that began with a much different photo.
As reported by Global News' Laura Stone, the foreign affairs minister posed with Maldivian protesters in New York outside of the Commonwealth Ministerial Action Group meeting on Sept. 27.
Canadian Foreign Minister John Baird @honJohnBaird poses for a picture with Maldivians protesting in New York pic.twitter.com/MWjPn3vemb

— MDP News (@MDPnews) September 27, 2013
The protesters were demanding an election and expressing support for ousted president Mohamed Nasheed. The pictures were shared to social media and sparked a confrontation between Baird and the Maldives' foreign minister who accused Baird of bias.
"I am biased," Baird reportedly replied. "Biased in favour in of democracy and a free and fair second round of elections. Biased against the delay and anti-democratic actions of President Waheed who only garnered five per cent in the first round of elections."
Maldives President Mohamed Waheed wrote to Harper to complain about Baird's conduct.
Waheed alleged Baird made "inappropriate and derogatory remarks" and "posed several harshly worded questions" to his minister that pertained to Maldives "domestic politics."
In a statement released Wednesday, Baird said Canada is "incredibly disappointed" by the decision of the Maldives' Supreme Court to annul the results of the first round of the presidential elections.
He also addressed the incident that got him in some hot water.
From his statement:
In front of my ministerial colleagues, I directly told the acting foreign minister of the Maldives that the latest delays were unacceptable and directly contradicted the values for which the Commonwealth is supposed to stand. I also told the acting minister that Canada has spoken out for the last 19 months on this issue, and will continue to speak out in favour of democracy and human rights until the will of the Maldivian people has been recognized through a free and fair vote.

Fresh elections must be organized without delay and the Elections Commission must be permitted to complete its constitutional mandate of managing and conducting these elections without interference. Anything less should be met with harsh criticism, and a firm reaction from Commonwealth nations.

Canada has said clearly that this current instability will only fuel continued unrest and violence. We condemn these acts of violence, and we call on all parties in the Maldives to remain calm and permit the Maldivian people to exercise their democratic will.
It's a safe bet Baird is hoping for a smoother time in China this week.
In a piece published in the Ottawa Citizen before his trip, Baird wrote about how the rise of China's cities means big economic opportunities for Canada.
"As the face of China changes, so must we change in our diplomatic and trade dealings," he said. "It is China's urban centres that are expected to drive most of the county's future economic growth, so we must turn our focus to these future markets."
Also on HuffPost