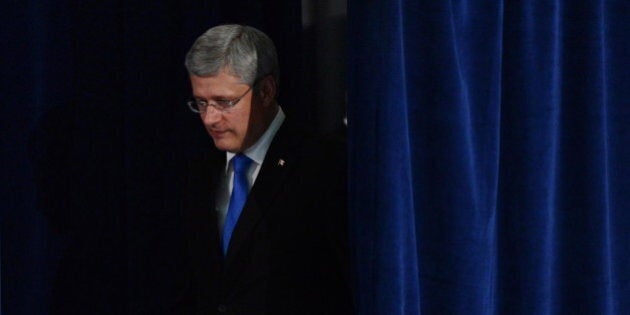 Consumer-friendly measures and jobs training are expected to trump Senate reform in this Wednesday's speech from the throne to mark the return of Parliament. But opposition parties say they have no plans to leave the Tories off the hook from the scandals that have plagued the government all summer.
Sources say there won't be any mention of new proposals for overhauling the upper chamber, and the Tories are already putting their focus on pro-consumer policies into high gear.
Industry Minister James Moore made the rounds on political talk shows Sunday saying the federal government would take action to limit consumers' cable and cell phone bills.
"We don't think it's right for Canadians to have to pay for television channels that they don't watch. We want to unbundle television and allow Canadians pick and pay the television channels that they want," Moore said on CTV's Question Period.
The Industry Minister told Radio-Canada that roaming fees were too high, not just internationally but domestically and it would cap domestic roaming fees.
Moore also suggested on Global TV that the government might curb merchant fees that small businesses pay to credit card companies and might ban airlines from overselling seats.
The Tories, the NDP and the Liberals are expected to spend much of the fall session talking about ways to lift the burdens on the middle class -- a theme that was central to Justin Trudeau's Liberal leadership bid.
"The best way to support the middle class is to empower them, and you empower them by lowering taxes."
Many of the Tories' pro-consumer policies appear inspired by past NDP proposals. The New Democrats are still focused on consumer protection measures, and have also called for more public regulation, increased transparency in the Commons and increases in corporate taxes while leaving personal taxes untouched.
Liberal House Leader Dominic LeBlanc told HuffPost his party will be focused on issues facing Canadian families, people who are losing their jobs and those who are worried about their retirement security.
"People's own economic circumstances are not improving the way that the government continually says they are," LeBlanc said, pointing to job creation numbers, rising personal debt and stock market upheavals that has chipped at people's retirement savings.
LeBlanc underlined that the Conservatives' continued ethical lapses also require questioning.
"Since we left Parliament in June police investigations have expanded, more members have been kicked out of caucus, serious election fraud charges have been laid," he said.
"They are trying to change the channel but the batteries are dead in the remote control, the TV caught fire."
NDP House Leader Nathan Cullen says Harper should steel himself for the return of Parliament.
"Boy, oh boy, he's going to have trouble with Question Period," Cullen said.
"If the Prime Minister didn't outright lie, then he lied by hiding the truth that he knew, and he needs to account for that.
"This goes right to his fundamental judgment as a leader. This is a nightmare scenario for him because his entire politics rests on sound competent judgement."
Like this article? Follow our Facebook page

Or follow us on Twitter