The new mascot for a Japanese refrigerator company that happens to share its name with a nuclear catastrophe is Fukuppy.
Seriously, Fukuppy.
"I'm Fukuppy," the little fella tells visitors to the company's website. "I think I'm kind with a strong sense of justice but people say I'm a little bit scatterbrained."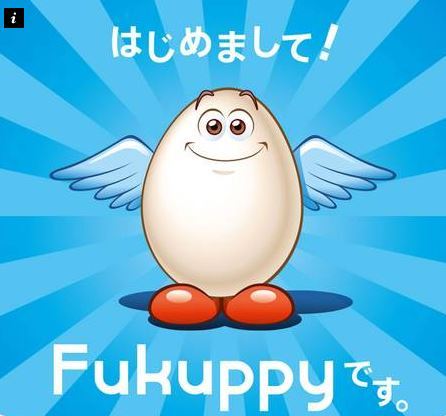 That's the bright-eyed egg with wings -- and an irrepressible smile --- representing Fukshima Industries. Not to be confused with the ailing Fukushima nuclear reactor that may be spilling radiation into the sea.
But, of course, it is confused. Because, let's face it, Japan's simmering nuclear holocaust has Fukuppy written all over it.
Fukushima Industries has certainly gotten the memo.
According to a press release, 'Fukuppy' melds the first bit of the company name with the English word happy -- a distillation of the company's delight-mongering philosophy.
Except in this case, swap out delight for consternation.
"We sincerely apologize for worrying many people and creating misunderstanding among them," the company said in the statement.
"We will look into the name, including a rethink of it."
In 2011, the Fukushima plant went into meltdown mode, forcing more than 300,000 people to evacuate. The cleanup bill, Al Jazeera estimates, has already reached $5.8 billion.
If not for that little catastrophe, the new mascot wouldn't be quite so awkward as it seems. As Preston Phro from Rocket News explains, this one definitely gets lost in translation.
As you've probably deduced, the "Fuku" comes from "Fukushima," (the surname rather than the place) which is pronounced as "Foo-koo." Unfortunately, when native-English speakers looks at this, we can't help seeing it as, um, well, you get the point, right?
Also on HuffPost
Funny 'Japlish' Translations