Calgary mayoral candidate Sandra Hunter would give back the $52 million from the province, lower business taxes and prohibit DNA testing on arrest.
But she most wants to be known for her tolerant stance on marijuana – so much that she's branded her campaign website, and herself, with it.
Call her Mayor-juana? She'd be glad if you did!
"We legalized drinking and gambling and the government makes money from both. It is time we did the same with marijuana and cut out the criminal element," says Hunter, who also ran for mayor in 2010, claiming just 284 votes.
With this amazing poster in her election arsenal – complete with two thumbs up AND a trademark, so you know she's legit (?) – Hunter says she will use the position of mayor to push the federal government legalize and tax pot.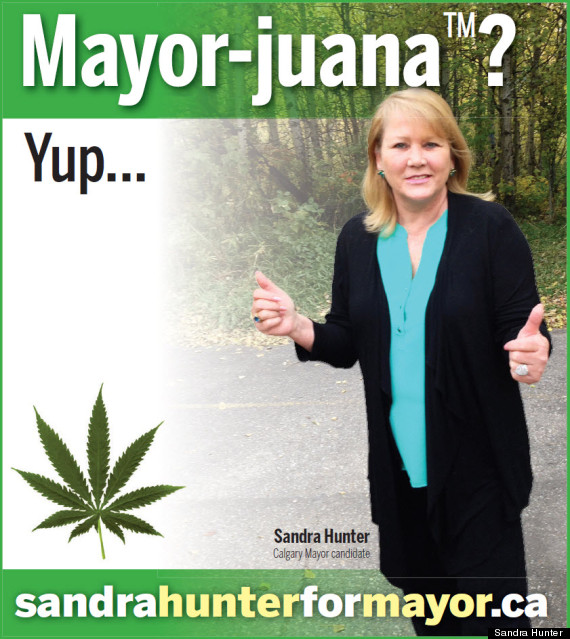 Hunter, the lone female candidate for mayor, has been pretty MIA on the campaign scene in recent weeks. She was the only candidate to miss the CivicCamp mayoral forum last week and has said very little to the press about her platform.
Her ad, however, was spotted in the Calgary Sun earlier this week.
Calgary will go to the polls Oct. 21.
Click here for complete Alberta municipal elections coverage.
Also on HuffPost
Which Province Smokes The Most Pot?