A photo of Rob Ford appearing to doze off at a council meeting has gone viral a day after the Toronto mayor called for a city worker to be fired for allegedly sleeping on the job.
But the Toronto mayor denies he was caught napping.
The image, apparently taken during a marathon, all-night meeting in 2011, was posted to Reddit Toronto on Thursday morning.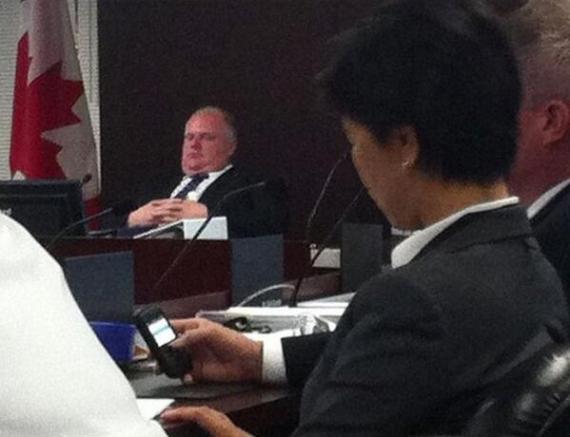 While his eyes are clearly closed, Ford told The Toronto Sun's Don Peat on Thursday he wasn't sleeping.
"You know what this is ridiculous. This is during the 24-hour meeting when deputants are every three minutes. It is so farfetched it is not even funny," Ford told the paper.
On Wednesday, Coun. Giorgio Mammoliti released a photo that he alleges shows a rec centre employee sleeping on the job.
"Wake up and provide the service you were hired for or the next staff to be laid off will be from Parks and Recreation" Mammoliti said in a press release on Wednesday.
Coun. Mammoliti releases photo of staffer who appears to be sleeping on the job. Ford says he should be fired. PHOTO: http://t.co/EVGGeMeE6T

— CP24 (@CP24) October 16, 2013
Ford — whose brand is all about penny-pinching and "respect for taxpayers" — was quick to voice his displeasure.
"If we have someone that's literally sleeping at their desk — how it looks — we cannot tolerate this," Ford told reporters at City Hall.
"If this is the case, I'm going to ask for the manager and the employee to be dismissed…. I don't want to hear these excuses — that he's on break, or that he's sick, or that he's at lunch or whatever."
One savvy person even made a video collage.
Vine user Nick Lenko combined some of Ford's comments with the photo of him possibly catching a few winks.
Tim Maguire, president of the CUPE Local 79 union that represents the employee, told reporters the worker may have been resting during a break. Maguire said the release of the image was a "media stunt" to divert attention away from ongoing cuts, Global News reported.
"This is a distraction. This is a distraction from the real issue of city services," he said.
Like this article? Follow our Facebook page

Or follow us on Twitter
Also on HuffPost