Satirical posters calling on children to become sex workers raised the ire of Edmontonians after they started appearing around town earlier this week.
The pink and black posters looked like a recruitment ad for underage girls looking to join the sex trade.
"Now Recruiting Child Sex Workers. Start a Rewarding Career Today at SexWork4U.com," the posters, which feature the image of a young girl, read.
"Whether you're 17 or 12, as long as there are johns willing to pay for sex with youth, there's a place for you in this career," said the accompanying website.
"Alberta is a hotbed for the sex trade. Especially here in Edmonton. Get involved today."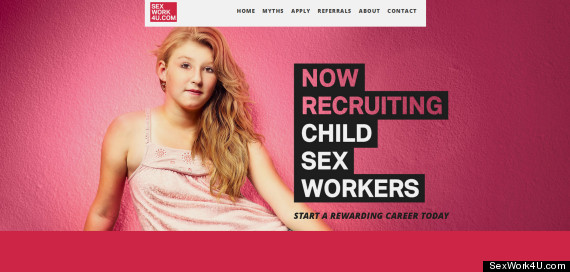 On Thursday the posters and website took on a new look, splashed with a yellow banner over the previous message, saying the recruitment campaign is not real but human trafficking is.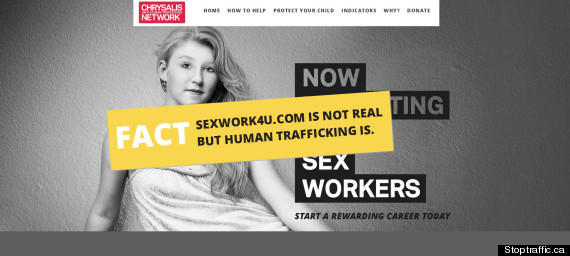 The posters are part of an anti-child exploitation campaign and the group behind the ads, Chrysalis Anti-Human Trafficking Network, is calling them a success, despite the disgust expressed by many online.
"It looked real and it was meant to look real," Jacqueline Linder with the Chrysalis Anti-Human Trafficking Network told the Calgary Sun.
"Our goal was to generate awareness. The outrage that comes with it should be directed at the exploitation of children," she continued to Global News.
Linder told the Edmonton Journal a lot of the backlash came from community groups doing similar work in the city, including Stop the Traffik, the Centre to End All Sexual Exploitation and the Action Coalition on Human Trafficking.
"In our community, we're receiving lots of criticism," she told the Journal, adding the group was forced to shut down the linked Twitter account due to too many complaints.
Story continues below the slideshow
"Lots of people think we went too far, lots of people thought it was in very poor taste."
Edmonton Police, however, have said the provocative campaign raises an important issue.
"For us to do something about it, people need to be aware. It's not something the police can deal with on their own. It's something that the community has to get involved with," Norman Cameron, a detective with the Edmonton Police Service's VICE Unit, told Global News, adding each year its officers help rescue at least 12 underage girls from the sex trade.
"By the time that the kids get to us, it's too late."
The website now has information on how to protect children from sex trafficking and ways the public can help.