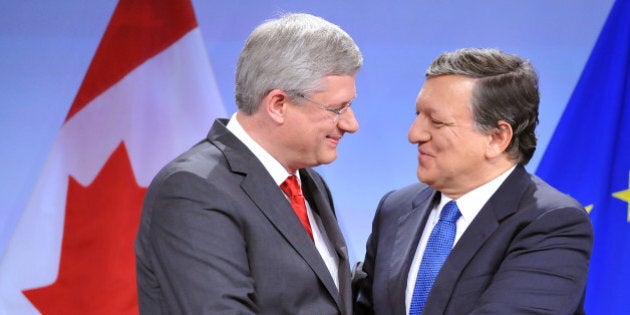 Prime Minister Stephen Harper preliminarily signed a landmark free trade agreement with the European Union on Friday, ushering in a political process that could last several years as the deal's nuts and bolts are ironed out and Canadian provinces and EU member states deliberate the pact.
The Comprehensive Economic and Trade Agreement (CETA) is being billed as the largest trade deal Canada has ever signed, given that the EU's 28 countries comprise a $17-trillion integrated economy — larger than the North American free trade area. Some 98 per cent of all tariffs on goods travelling between Canada and the EU will be removed, and trade is projected to increase by 23 per cent.
"This is the Wayne Gretzky of trade deals," said Jayson Myers, president and CEO of Canadian Manufacturers & Exporters.
But the devil, as they say, is in the details, and so far the Harper government has released few details. Reporters got access to some CETA documents on Friday, but they were vague and, in the words of the Globe and Mail's Bill Curry, the documents "don't list what Canada gave up."
The Harper government's political opponents are already pressuring the prime minister to release the full text of the trade treaty.
"Today's announcement contains a lot of hype. Canadians are still left waiting to read the fine print. Why won't this government just release the text of this deal and let Canadians judge it for themselves?" NDP MP David Christopherson asked.
"If this deal is so important, shouldn't Canadians have the chance to accept or reject it?" asked Maude Barlow, head of the Council of Canadians.
That may be a little difficult, as Harper signed an "agreement in principle" in Brussels on Friday, and not the actual text, parts of which have yet to be hammered out.
But Harper says this sort of thing is folly.
"I think anyone who opposes [CETA] will lose and make a big historic mistake politically for so doing," the prime minister said.
It may be some time yet before we have all the details, but here's what we know so far: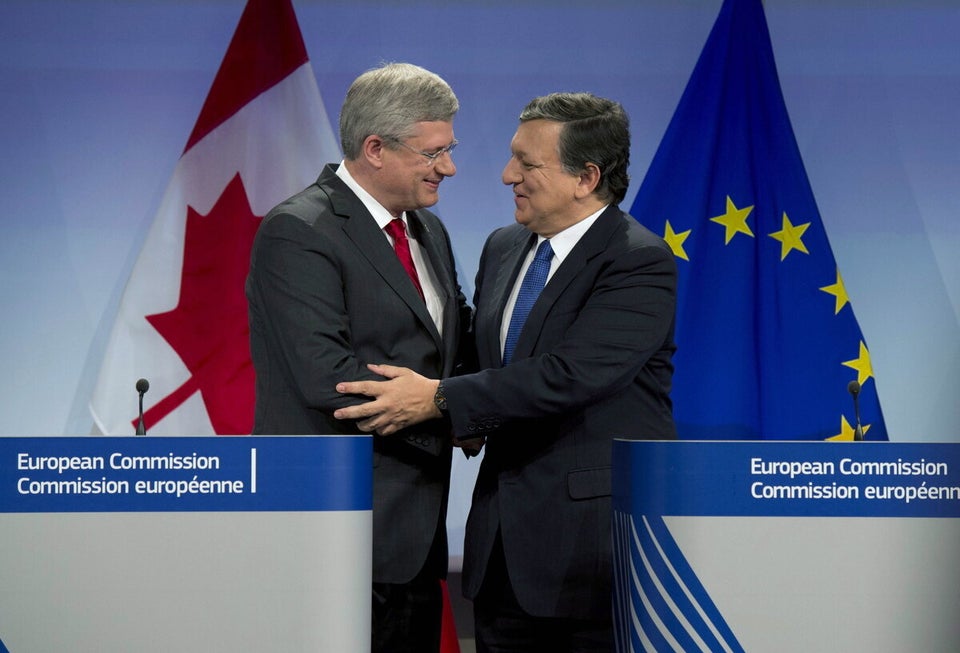 Canada-EU Free Trade Deal: What You Need To Know
— With files from The Canadian Press