Getty
Toronto Fashion Week has only just begun, and we're already seeing some star-studded front rows.
Canadian actress Elisha Cuthbert was at the tent Monday night to watch the Pink Tartan and David Dixon spring 2014 shows.
One fan tweeted their excitement over seeing the actress, saying:
Also, I believe I peaked the gorgeous Elisha Cuthbert at David Dixon in the frow @HappyElishas #bringbackhappyendings

— Esther Rogers (@thebagthief) October 22, 2013
"The Girl Next Door" star arrived wearing a knee-length frock with a full silvery-gray patterned skirt and a black bodice with strappy shoulders. She kept her makeup very minimal, to show off her perfect skin, and left her middle-parted hair down in a sleek straight style. She accessorized the look with a pair of nude pointed toe pumps and a simple black and white watch.
The newlywed (Elisha married Toronto Maple Leafs captain Dion Phaneuf in July) exclaimed her love for Pink Tartan's spring 2014 collection, which left some Canadians feeling a bit uncomfortable with the braless models.
Cuthbert tweeted:
@PINK_TARTAN what a great runway show! #black&white

— Elisha Cuthbert (@HappyElishas) October 21, 2013
Prior to the runway presentations, the "Happy Endings" actress was at the Ritz Carlton, where she announced the nominees for the inaugural Canadian Arts and Fashion Awards, which included Pink Tartan's Kimberley Newport-Mimran.
Cuthbert seems to have become a seasoned TFW pro -- this isn't her first time! We think she looked lovely in her ensemble, and we're glad to see our Canadian stars supporting Canadian fashion. What do you think of Elisha's look?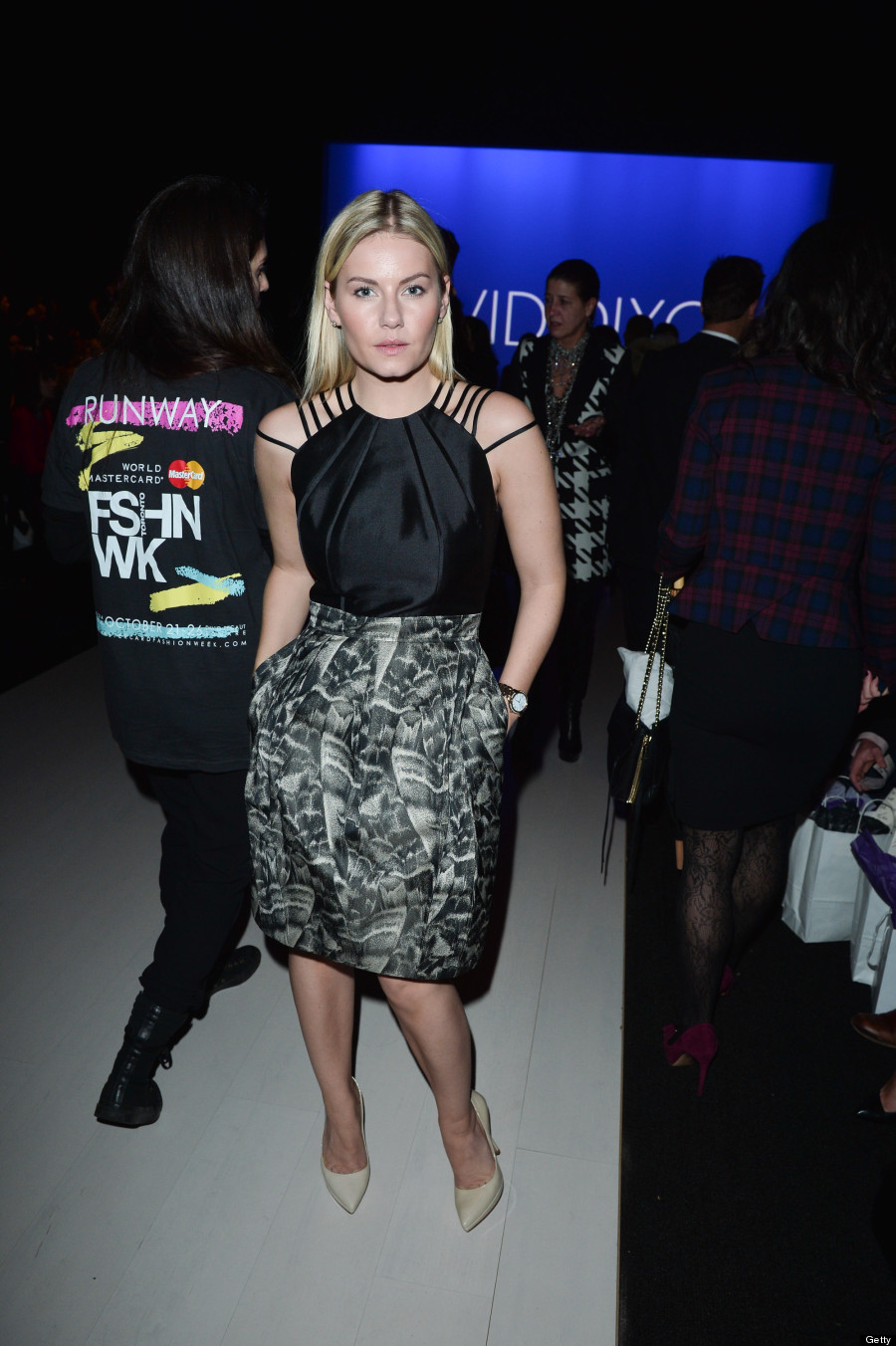 Check out more Fashion Week pics:
Toronto Fashion Week Spring 2014