A dog that was beaten with a shovel and tossed in a dumpster last week is reportedly on the slow road to recovery.
Animal rights activists say justice for battered Breezy needs to send a resounding message -- and the animal's alleged tormentor needs to face serious punishment.
An online petition calling for tougher measures against people who brutalize animals has already collected more than 48,000 signatures
The Ottawa Citizen reports that a man was seen kicking the dog on Oct 16, before switching to a rake and then a shovel to continue the vicious assault. Witnesses claim attempts to intervene were met with threats from the man.
Finally, Breezy was carted in a wheelbarrow to a dumpster, where the dog was left for dead.
Steven Helfer, a 24-year-old Ottawa resident, is facing multiple charges in connection with the incident.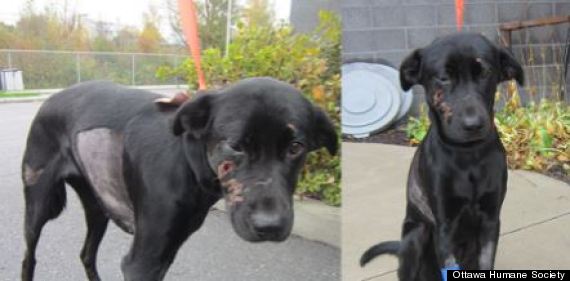 The online petition reads as follows:
"We call on Crown Attorneys to proceed by way of an indictable offence in the case of alleged animal cruelty against Breezy the dog and ask that, if Steven Helfer is found guilty of one or more of the charges, Crown recommend to the judge the maximum sentence available under the law and the honourable sentencing Judge in the Ontario Court of Justice apply the maximum sentence available for these offences, including a lifetime ban on owning animals."
Breezy, a Labrador-German Shepherd mix. suffered serious head and chest injuries in the attack.
"She suffered traumatic wounds and deep lacerations to her head," the Ottawa Humane Society said in a statement. "Vets say they are most concerned about potential brain swelling."
While she is able to stand up, the attack has left her in need of major surgery. The organization has set up a page for people who wish to help.
Also on HuffPost