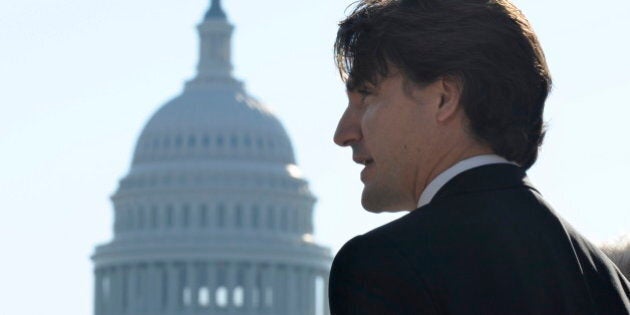 Liberal Leader Justin Trudeau concluded his first visit to the U.S. capital on Friday after a series of meetings with White House officials and others and following a panel discussion a day earlier where he touted the benefits of building the proposed Keystone XL pipeline.
Trudeau appeared Thursday on a panel with Madeleine Albright, former U.S. secretary of state, and Julia Gillard, Australia's former prime minister, at a conference hosted by the Centre for American Progress.
The Montreal MP said during the talk that he supports TransCanada's proposed pipeline that would carry crude oil from Alberta to refineries on the Gulf Coast because it would be good for Canada and the U.S.
He acknowledged that his position may have surprised some in an audience that would have included strong critics of the project.
"There were some people who raised an eyebrow, absolutely," Trudeau told reporters on Friday. "I'm seen as a strong, young progressive with an environmental background. The fact that I'd be talking positively about the project I think got people thinking about the fact that perhaps it's not as bad as it's been caricatured."
Trudeau added that the pipeline is "an important energy infrastructure" for both countries, will be good for the Canadian economy and that it must be done in a sustainable and properly regulated way.
Support for Keystone is 'steadfast'
A decision on whether the controversial Keystone XL pipeline can go ahead is currently in the hands of U.S. President Barack Obama and it's not clear when he will make it. Ministers in Harper's cabinet have made multiple trips to Washington in recent years to lobby for its approval. Alberta Premier Alison Redford is also a frequent visitor.
Now Trudeau has added his voice to the Canadian contingent of Keystone backers who push for its approval while in Washington. "My support for Keystone is steadfast," he said while talking on a street near the Canadian Embassy.
Not far away there is a bus shelter with an anti-Keystone poster designed by Canadian Franke James in it. James was recently in the city along with Canadian environmentalist David Suzuki for a panel discussion sponsored by the Natural Resources Defence Council. They urged the Obama administration to reject Keystone.
Many environmentalists are opposed to the pipeline and some Americans are against it because they say it won't create all the jobs its proponents say it will and is more in Canada's interest than in America's. Trudeau, however, said the U.S. will benefit from the pipeline.
"There are lots of American jobs involved and there's lots of opportunities for the United States as well," he said. "There are many Americans who support Keystone as well, so I'm not particularly worried about it being an unbalanced deal. It's just part of a longstanding working friendship between our two countries."
While Trudeau is in favour of the Keystone pipeline, he's not supportive of the proposed Northern Gateway project that would transport oil from Alberta to British Columbia's coast. "They are very, very different proposals," the Liberal leader said. Keystone, for example, has been signed off on by Canada's energy board while the Northern Gateway line would mean bigger risks to more ecologically sensitive areas and to people in B.C. who rely on the water for their livelihoods, he said.
"It's important that we get our resources to market, but it's also important that we understand that it's not just up to governments to grant permits anymore. We have to get communities to grant permission and that's something that we need to spend more time focusing on," Trudeau said.
He was also asked about the Senate scandal dominating politics back home and said he is "very proud" of the motion put forward by his party's leader in the upper chamber, James Cowan. He said it would encourage an open hearing.
"I'm not being overly controversial when I say I believe in the rule of law and due process and I think that's important that we continue to fight for," said Trudeau.
But when asked about the government's budget bill that could curtail some federal workers' right to strike, Trudeau wouldn't bite. He would only say that he supports collective bargaining and unions generally and that he didn't want to criticize Harper while abroad. There is a traditional protocol in politics, that when followed, involves politicians not criticizing their country's government while outside their borders.
"I feel that when I'm on a foreign trip, on foreign soil, my primary role is as a representative of Canada and a representative of the Canadian people and I try not to be too critical," Trudeau said.
Trudeau has travelled to more than 80 countries but had never been to Washington. He met with White House officials including Gene Sperling, director of the National Economic Council, and Jason Furman, who chairs the President's Council of Economic Advisers, during his visit.
One of his goals on the trip was to build relationships that will be important in the years to come, Trudeau said, as he works toward a bigger goal – becoming prime minister.
Like this article? Follow our Facebook page

Or follow us on Twitter