A local radio host is accusing Toronto police of roughing him up, arresting him, then lying about what happened.
NewsTalk 1010 host John Downs says he spent the night in a Toronto jail after he took pictures of a crime scene last winter.
The incident happened at around 2 a.m. on Jan. 18, near Bathurst and King streets.
Downs says he was riding home on a King streetcar when he spotted a crime scene and stepped off the car to snap some photos.
After taking a few pictures, Downs says he was approached by a firefighter who asked him to leave.
"I assured him I was not interfering with the scene and took a third photo," Downs says on his blog.
Downs told CBC News he identified himself as a member of the news media and reiterated he was not interfering with a police investigation.
That's when Downs says things got rough. The firefighter called a police office over. On his blog, Downs describes what happened next:
"I was grabbed by my shoulders and thrown face first on to the sidewalk. My left arm was held behind my back; my right armed was pinned under my chest. I tried to comply with the officer's demands of, 'Do not resist,' but his right knee was digging into the small of my back, making it impossible to free my wrist."
Downs spent the night in jail accused of assaulting the firefighter, a charge he denies.
"I have never punched anyone in my life, and I never would," he said. "This allegation that I assaulted a fire official is completely incorrect."
The assault charge was never laid but Downs says he did face a fine for public intoxication, a charge a judge later threw out.
Now the radio host says he wants police to admit they falsely accused him. He's filed a complaint with them, in addition to going public with the story on his radio show.
"This happens way too often," he said. "I wanted people to hear what really happened without thinking I'm being motivated by anything else."
Toronto Police have told Downs they are looking into his complaint. They did not respond to CBC requests for comment.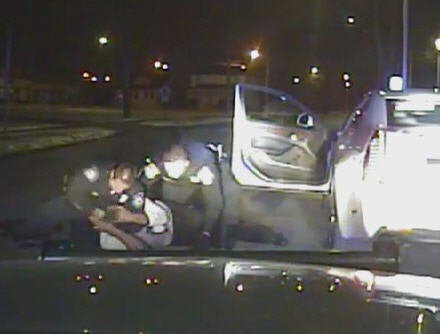 Police Brutality Incidents