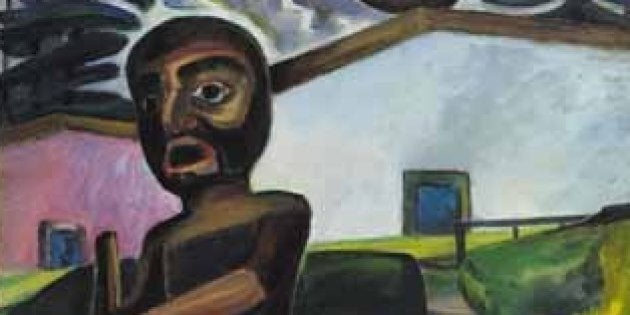 A painting by one of B.C.'s most famous artists is set to pull in as much as $1.6 million at auction.
The painting, which was produced between 1928 and 1930, shows an indigenous welcome figure in front of a house with a canoe in the foreground.
The welcome figure in "The Crazy Stair" also appears in a watercolour painting that dates back to 1912.
The painting was shown at the National Gallery of Canada on two occasions, in 1990 and 2006, and was later exhibited at the Vancouver Art Gallery, the Art Gallery of Ontario in Toronto, the Montreal Museum of Fine Arts and Calgary's Glenbow Museum.
Seven other Carr paintings will also be on the auction block, and Carr's works could fetch more than $2.5 million in total, the Vancouver Sun reports.
Robert Heffel, vice-president and secretary of Heffel Fine Art Auction House, said the decision to auction it off comes as the social club renovates its building.
Carr's work will be sold at a live auction in Toronto on Nov. 28.