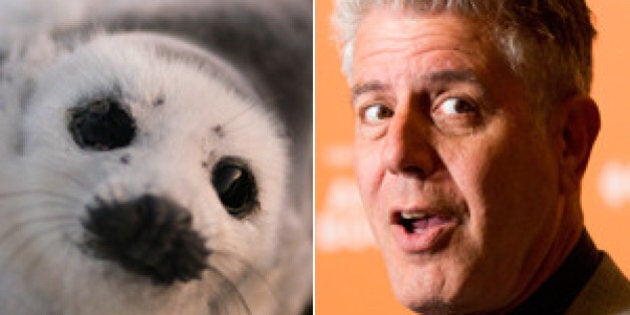 A prominent American chef is taking aim at celebrity chef and TV host Anthony Bourdain, a vocal critic of a campaign to boycott Canadian seafood because of the seal hunt.
Cathal Armstrong, who runs the upscale Restaurant Eve in Alexandria, Va., was reacting to the tweets of Bourdain, who labelled the Chefs for Seals campaign as misinformed and ignorant of facts of the seal hunt, particularly its value to Inuit communities.
Bourdain also said the campaign — which has enlisted the help of more than 40 well-known chefs — is punishing other Canadian fishermen who rely on the seal hunt for part of their income.
But Armstrong said Bourdain's criticism will not derail the campaign.
"To think of a baby seal being clubbed to death simply for its pelt and then anything else being wasted is sinful," said Armstrong, a Dublin-born chef who was one of the first to step forward to the Humane Society of the United States campaign.
Armstrong said he has no problem with exempting Inuit from the campaign.
"We're not opposed to the Inuit tribes continuing with what they do," Armstrong said in an interview. "What we are specifically opposed to is the commercial seal hunt."
Boycott will have ramifications: chef
The Humane Society of the United States has been the strongest opponent of the seal hunt over the last decade, often enlisting the help of celebrities, such as musician Paul McCartney, to persuade the public.
Armstrong said he recognized that a boycott of Canadian seafood could have ramifications.
"It's a very difficult choice to affect the life, the livelihoods of honest, hard-working, dedicated families that depend on some of the seal hunt as part of their income," he said.
"They're unfortunately affected by the fact that there are many, many irresponsible people out there that are not following the regulations, that have no care for the welfare of these animals and are only interested in the pelt."
The Association of Seafood Producers, a St. John's-based trade organization, says the impact of the boycott has been marginal at best.
Canadian seafood exports totalled $4.1 billion in 2012. The U.S. is the top market for exporters.