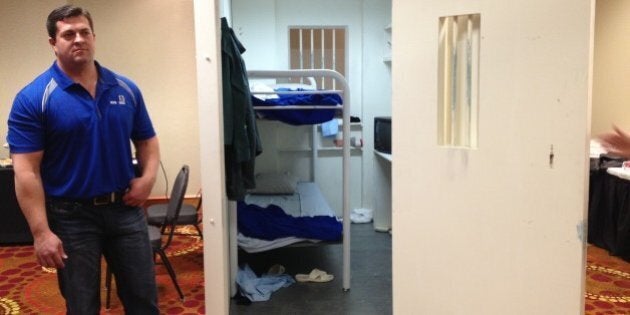 CALGARY — Stephen Harper's Conservative party's policies are being attacked by an unlikely foe this weekend: corrections officers.
The women and men who see the consequences of the federal government's "tough on crime" legislation firsthand say the bills are wrongheaded, and create a more dangerous work environment for them.
Representatives of the Union of Canadian Correctional Officers say they feel their rights are being trampled upon by a Conservative party bent on destroying unions.
"Harper wants to be tough on crime… but he's not giving us the resources to do it properly," said Trevor Davis, a corrections officer at the William Head Institution on Vancouver Island.
The Tories are not looking at the effects of the bills they are passing, he said. "They are making our jails unsafe."
UPDATE: Conservative delegates at the party's convention in Calgary voted in favour of four motions Saturday that would enact right-to-work legislation, or what critics have dubbed right-to-work-for-less legislation.

The four policy resolutions call for the end of mandatory union dues and the right to withhold union dues if they are spent on political activities with which a member doesn't agree.

In an email to HuffPost, Public Safety Minister Steven Blaney said "these big union bosses" want to increase prisoners' comfort. "The result of our tough on crime agenda speak for themselves: the crime rate has declined, we have closed prisons and Canadian families feel safer in their communities."
The Union of Canadian Correctional Officers rented a suite next to Finance Minister Jim Flaherty's hospitality suite at the Calgary Marriott hotel where many Tory delegates are staying during the party's biennial convention.
They set up a mock cell built to scale to give the public a better idea of what double bunking means, and filled the room with dangerous weapons confiscated from inmates, including pointed broom sticks and knives concocted from metal bed legs.
Davis said many of the Conservative delegates who came to the union's showcase were shocked and surprised.
"They have no clue that this is (happening). They see small picture 'tough on crime' but what you've got to do is pull back the lens and show how this affects everybody here."
During his speech Friday, the prime minister received a standing ovation after reiterating that his government would ensure "a life sentence means a sentence for life."
Ryan DeBack, a corrections officer with the Regional Psychiatric Centre in Saskatoon, said life sentences will likely mean more prison violence.
Right now, corrections officers have several tools at their disposal to "mold good behaviour," DeBack said, and the most effective is a future chance at parole.
"When you have a guy who is locked up and he is a lifer, he has nothing to look forward to. If I'm standing at the cell door saying you shouldn't be doing that, what reason does he have to listen to me?"
Correctional Service Canada cites a 33 per cent increase over four years in inmate assaults in 2010-2011. The union said the increase in violence is the result of the Conservatives' tough on crime policies. The federal government increased mandatory minimum penalties for certain offences and reduced or eliminated chances for parole. They also increased time spent behind bars by restricting the use of conditional sentences and reducing time served in pre-trial custody.
The latest annual report by the Office of the Correctional Investigator shows the federal prison population has increased by 6.8 per cent – one thousand inmates, or the the equivalent of two large male medium-security institutions – since many of the Conservatives' tough on crime bills came into effect between March 2010 and March 2012.
The practice of double bunking has increased as convicts are being kept in jail longer and penal institutions are closed. It's something the union also blames for the increase in prison violence.
The Union of Canadian Correctional Officers is also upset the government's C-4 omnibus bill seeks to give the minister the right to determine what is dangerous work that officers can decline doing.
It is also concerned the Conservatives will try to limit the union's influence by bringing forward right-to-work legislation.
"Right now what we are doing would be considered political spending… They want to limit our ability to do that." DeBack said in the union's hotel suite.
On Saturday, Tory delegates will debate several policy resolutions that seek to remove mandatory union membership and limit the type of activities unions can engage in.
Mandatory union dues are the same thing as paying taxes, DeBack said. You don't always agree with what your taxes end up supporting, he said.
Davis, the corrections officer from Vancouver Island, says that when he asks the delegates how they are going to vote, it's obvious they have no idea what they are voting on.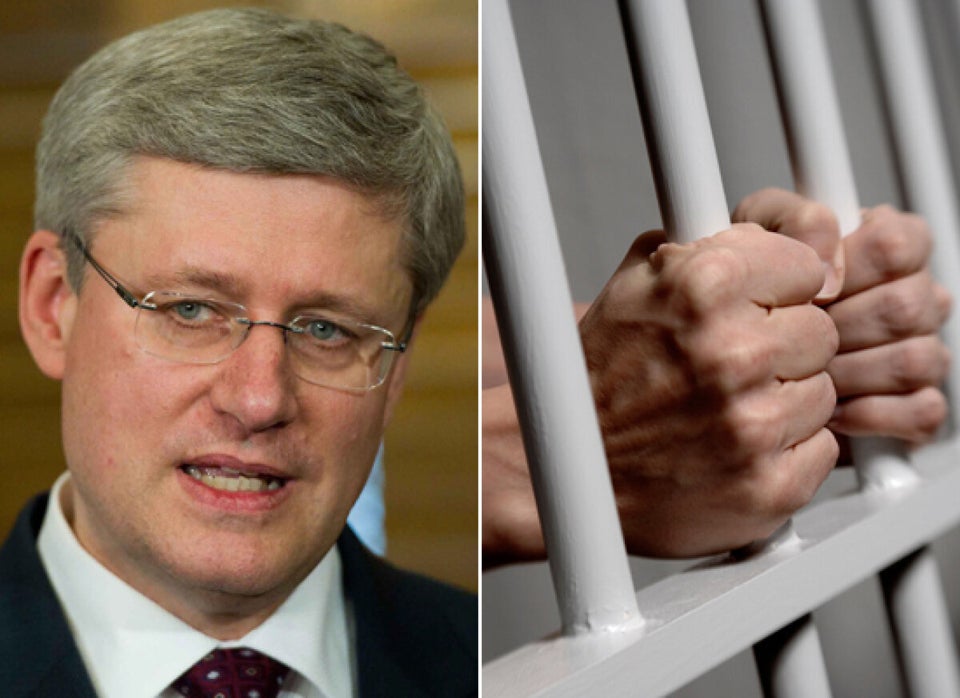 Key Changes In Crime Bill