That's according to a new poll by Forum Research, which showed Ford's approval rating rose by 5 per cent to 44 per cent on Thursday, following a press conference in which police Chief Bill Blair revealed that police seized a hard drive containing a video "consistent with what has been described in the media."
Those numbers might seem counter-intuitive, conceded president of Forum Research Lorne Bozinoff, but they do show the unwavering support of Ford Nation.
"Remember we're talking about approval rating, and that's a question pertaining to his job as mayor," Bozinoff told CBC News. "And as long as these allegations are not impinging on his ability to do his job, people are satisfied."
The poll sampled opinions from 1,032 randomized residents, all contacted on Thursday night after Blair's news briefing. A whopping 98 per cent said they were aware that police have confirmed the video exists.
Strong numbers in Scarborough
Bozinoff added that Ford may have won sympathy points during the Thursday media fracas, when Ford screamed at reporters and shoved them off his property.
"He sort of looked like he was hounded at his home," Bozinoff said. "There might have been a bit of sympathy for him because it did seem sort of aggressive, and that may have also contributed to his numbers."
Bozinoff said it's important to note that Ford retains loyal support in Scarborough, where more than half of the respondents (54 per cent) said they still approved of Ford, regardless of the video scandal.
"Scarborough's where he just arranged a subway, so his numbers there are driven by the job he's doing for them, not so much by his personal life," he said.
But it's not all good news for Ford. Although he retains a core base, the majority of those polled (60 per cent) want him to resign.
"These are pretty high numbers. They don't think he's addressed the allegations from before, so it's not like he's got a free pass on this," Bozinoff said.
Coming up to the next election, he said, the damage to Ford's campaign may come from the swing voter.
The previous poll on Ford, conducted on Oct. 28 and 29 just before the latest bombshell announcement, had his approval ratings at 39 per cent.
The latest Forum Research Poll has a margin of error of plus or minus three per cent, 19 times out of 20.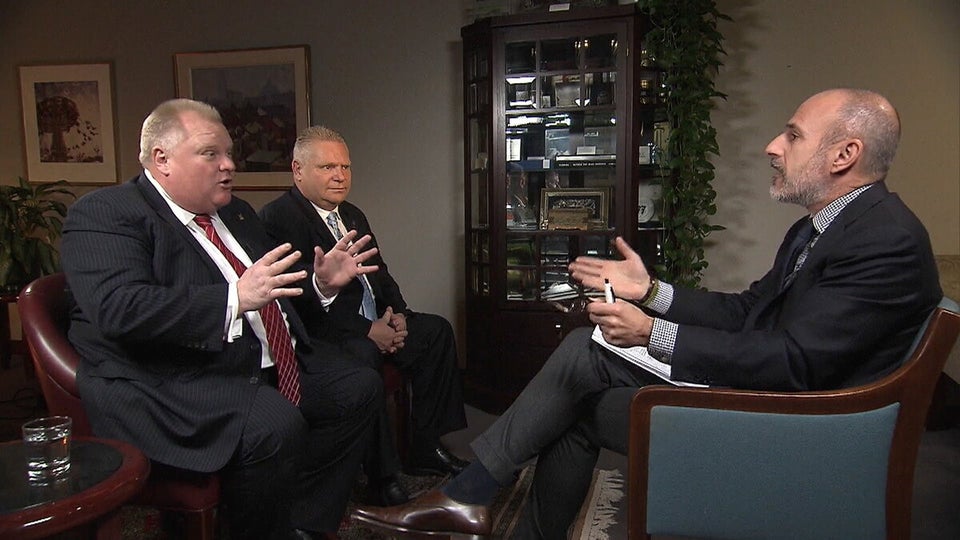 Best Photos From Rob Ford Crack Scandal