Hanady Saad said she was walking along René-Lévesque Boulevard in Montreal with her friends a few weeks ago when a stranger yelled at her.
"He was starting to say bad words — 'Terrorist, go back home, we don't want to see your hijab. You have to take it off,'" Saad said.
She has lived in Quebec for 23 years and said for the most part, anti-Muslim comments have been rare.
But in the last month, Saad said, she has been targeted at work, café and grocery store.
"I'm a human, you know? I have the right to wear the veil. I have the right, like everybody, to be who I am."
The Parti Québécois's proposed charter of Quebec values has stirred debate over secularism and overt religious symbols ever since it was unveiled in September.
In recent weeks, the Quebec Collective Against Islamophobia (Collectif Qubécois contrel'Islamophobie) said it has seen a 300 per cent increase in complaints about anti-Muslim attacks.
Spokesman Adil Charkaoui said more and more women are staying at home out of fear.
"Today Muslim women wearing veils are scared to go [out] publicly and to walk alone in parks in buses in metros in malls. So this is really dangerous now," Charkaoui said.
Charter to be tabled Thursday
The minister responsible for the charter says the debate surrounding it has been healthy for the most part.
"I maintain that we should be respectful of each other even though we disagree," said Quebec Minister of Democratic Institutions Bernard Drainville.
The Parti Québécois government is expected to table its legislation for the charter of values on Thursday in the national assembly.
As a minority government, the PQ will need the support of opposition party members if it hopes to pass the controversial proposal.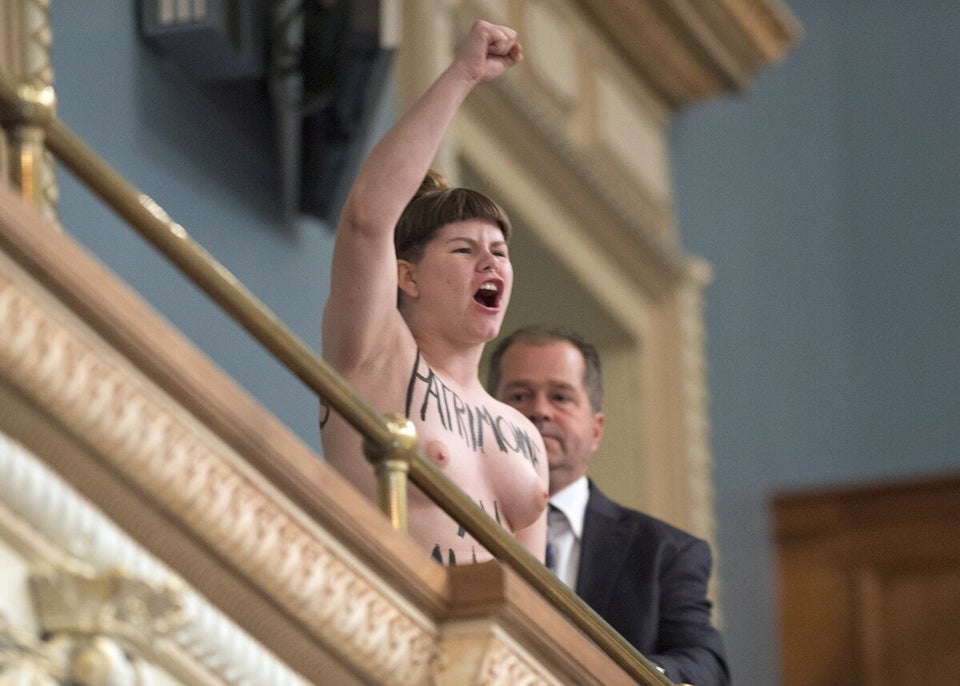 Topless Protest In Quebec Legislature