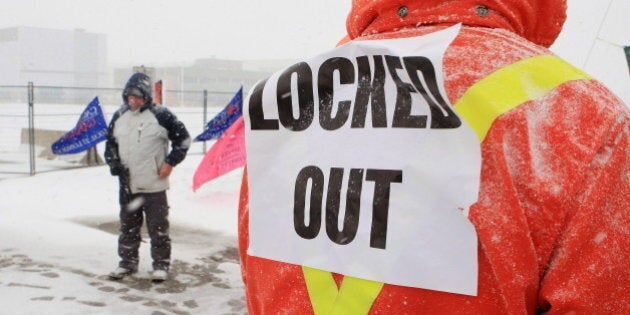 Right-to-work laws in U.S. states may be putting downward pressure on Canadians' incomes, a study from CIBC suggests.
The study comes days after the Conservative Party of Canada made right-to-work a part of its policy platform.
Evidence suggests Canadian jobs — particularly in manufacturing — have been lost to right-to-work states.
In one closely watched case, heavy machinery manufacturer Caterpillar locked employees out of its Electro-Motive plant in London, Ont., in January, 2012, after the union there rejected Caterpillar's demand that wages be cut by more than half.
The Globe also notes that pay hikes negotiated in union agreements have been shrinking recently.
The Obama administration has been stridently opposed to right-to-work laws, with President Barack Obama saying they give you "the right to work for less."
"The Conservatives, at both the federal and Ontario level, have taken a hard shift to the far right, adopting some of the most extreme U.S. Republican-style labour policies," York University Labour Law professor David Doorey told HuffPost.
"This plays well to the Conservative base, and I suspect the government will carry through with much of the platform."
— With files from Sunny Freeman