Being Rob Ford means having to say sorry a lot.
Or, at least, denying it ever happened.
The embattled Toronto mayor found himself once again hanging his head in front of a battery of news cameras at City Hall on Thursday afternoon. This time his very public regrets come on the heels of a video surfacing that appears to show the mayor threatening to tear out throats, describing how he would kill someone and swearing up a storm.
(Maybe he was talking to this guy?)
While it's unclear exactly when the video was taken -- some reports suggest February or March this year -- the hangover has certainly come home to roost.
"All I can say is again I've made mistakes," he told reporters on Thursday. "The whole world is going to see it and I don't have a problem with that but it's extremely embarrassing."
Sadly, it seems like only a few days ago, Ford was telling reporters, "I made mistakes in the past and all I can do is apologize."
Oh wait, that was a few days ago -- on Tuesday, in fact, when the mayor admitted to smoking crack cocaine to a pack of reporters at City Hall.
Something tells us Ford didn't knock on wood when he added, "Folks, I have nothing left to hide."
Here's a brief history of regrets and denials from the the chief magistrate:
Feb 15, 1999: Ford is charged with refusing to give a breath sample after he was pulled over in Miami, Florida. He's also tagged with marijuana possession. The arresting officer, provided these nuggets in an affidavit:
"The [defendant] approached me and took all of his money and threw it to the ground. The [defendant] was acting nervous. When the [defendant] spoke to me I could smell a strong odor of an alcoholic beverage on this breath. His eyes were blood shot."
The pot charge was subsequently dropped, but when pressed about it during his 2010 mayoral run, Ford initially denied it ever happened.
Later, he admitted to the run-in.
"I had a few drinks at Valentine's Day dinner with my wife. It was a mistake, I shouldn't have been driving but I owned up to my mistake," he said.
Some political observers thought at the time that the could have wrecked his campaign for mayor.
"This really is a train wreck," Ryerson University professor Myer Siemiatycki told the Globe and Mail. "I think for many Torontonians, this will be a game-changer."
Well, no.
March 6, 2002: Ford overheats during a council debate and allegedly calls fellow councillor George Mammoliti a "Gino boy." The comment, meant to disparage Mammoliti's Italian heritage, even raised an eyebrow at the Washington Post.
"It's no secret we don't like each other ... and we don't like each other's politics, Mammoliti told the Toronto Star at the time. "But to attack my culture, to attack the Italian community and to be discriminatory that way was inappropriate."
Ford wasted no time in dubbing the allegation a "left-wing conspiracy."
"If they (councillors) accuse me of saying that ... yeah, they are liars because I'm not a racist and I feel deeply offended to sit here and have to defend my position," the Star reported.
So no apology.
June 24, 2004: Ford and Mammoliti join forces to chase reporter John Barber around the council chamber after the hounded scribe called Ford a "fat fuck" when he wouldn't answer a question. Ford offered no regrets or denials in this case. But the video remains a treat to watch.
Story Continues After The Break
June 14, 2005: Another one to file in the "no regrets" column. During a grants debate, Ford says these very words:
"I don't understand. No. 1, I don't understand a transgender, I don't understand, is it a guy dressed up like a girl or a girl dressed up like a guy? And we're funding this for, I don't know, what does it say here? We're giving them $3,210?"
April 16, 2006: Rob Ford gets trashed at a Toronto Maple Leafs game, yells obscenities and gets escorted out by security.
At first, he denied the accusations, CBC News reports.
Not long after a couple who had been sitting near the mayor called him out, Ford came clean.
"I reflected on it last night, and talked to my family," he told CBC. "I came forward and admitted it. That's all I can do. I mean, I'm not perfect."
March 26, 2008: Police are called to the Ford residence on a domestic abuse charge. Ford is initially tagged with assault and uttering a death threat toward his wife. The charges are later dropped, and Ford tells reporters "I'm exonerated. I'm not guilty. I'm just glad this is over."
Renata Ford, described in Toronto Life as 'the invisible wife,' has been a stalwart supporter of her husband in her few interactions with the media.
June 4, 2010: Ford is caught on tape telling a Toronto man he will help him score OxyContin.
"I'll try, buddy, I'll try. I don't know this shit, but I'll fucking try to find it. Why don't you go on the street and score it? Fuck, you know, I don't know any drug dealers at all."
Ford later tells a press conference that the call was "a good deed that has gone horribly wrong."
"His tenor became threatening. I began to fear for my family. He clearly said on the tape that he could see my house. In my opinion, this person needs help."
READ THE FULL TRANSCRIPT HERE.
December 21, 2010: Ford's seeming arch-nemesis, the Toronto Star, reveals that he fudged his academic credentials a tad -- suggesting he went to Carleton University for three years, while playing varsity football. The reality? The Star contends he ditched school after a year, and may have never played a game for the Carleton Ravens.
Ford didn't so much issue a regret, as a clarification.
"While Rob did attend Carleton University for political science, he actually left school two credits short of graduating when his sister fell upon hard times," Fraser Macdonald, the Ford campaign's deputy communications director, later told the Star.
August 22, 2011: He is accused of shooting a woman and her kid the bird. Mother. Kid. Rob Ford's middle finger.
It happened, allegedly, while Rob Ford was driving and talking on his phone. The mother told him to focus on the road. Ford flashed immediate disdain with a single-digit salute.
File this one under DENIAL.
"A story published that while I was on the phone I made a rude gesture to a fellow driver is not accurate," he would later tell City News Toronto. "This is a misunderstanding."
October 24, 2011: Ford loses it on a team from a comedy show that showed up in his driveway. Granted Mary Walsh's a one-trick pony -- essentially, the comedian dresses up as an over-the-top crazy woman named Marg Delahunty, inviting you to laugh at her.
But Ford got really annoyed. So annoyed, in fact, he called 911, not once, but three times.
Stories Continues After The Break
March 17, 2012: Ford is spotted stumbling in the wilds of downtown Toronto, reportedly "inebriated and sweaty, but in a jovial way." So jovial, in fact, when a woman told him he is "the worst mayor ever," Ford reportedly kissed her on the forehead before reportedly ducking into the Bier Markt on the Esplanade.
Earlier this month, the Toronto Sun quotes a source close to the mayor saying, "This was him at his worst."
His worst? Really?
May 2, 2012: A Toronto Star reporter claims Ford chases him around public property with his fist cocked, before settling for simply robbing the scribe of his phone and recorder.
Ford's take? The reporter was peeping onto his property.
June 18, 2012: This picture happens.
The image was posted to Twitter by a Toronto woman with the caption: "Stay classy, Rob Ford. Oh, and get a bib next time".
There are quite a lot more notables -- from Ford using Toronto Transit to collect football players he coached after game (and stranding commuters in the process) to skipping his own libel trial to coach football to getting essentially canned by that school football team.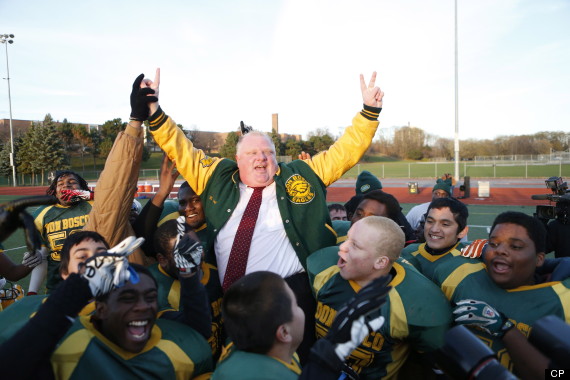 Let's not forget the time, he allegedly groped mayoral rival Sarah Thomson. And hey, remember when he was briefly removed as mayor?
Yeah, it seems like all a blur to us too.
Also on HuffPost
Twitter Reacts To Rob Ford 'Murder' Video