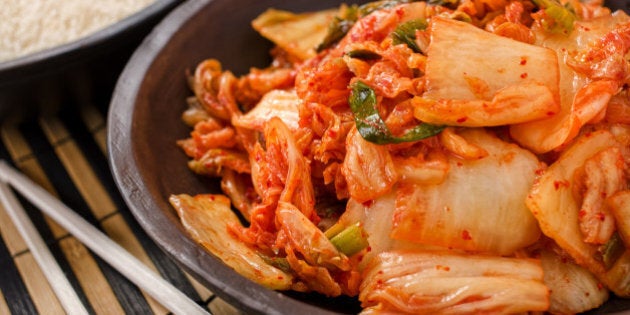 There was a time when all those mysterious jars full of colourful vegetables in your grandparents' basement were enough to inspire a week's worth of nightmares as to what they might really contain. Now, with the fermented food trend having made its way solidly onto restaurant menus, you know your Nana's pickled cabbage — or tofu, or kefir, or whatever was bottled — could be the key to why she had such a long and healthy life.
Still not convinced? Five nutritionists have put together recipes help to incorporate fermented foods into your diet, and show off some great ideas for how they can be eaten regularly.
TIP: An afternoon cup of miso soup is one of the easiest ways to get more fermented foods into your daily diet. Boil some water in a kettle, pour into a mug and stir in a spoonful (about 1 tbsp) or miso paste and sip away. This is a great way to support digestion and the mineral-rich miso also helps ward off the afternoon sugar cravings too.
¼ cup fresh ginger, cut into match sticks
½ cup broccoli, chopped into florets (use stems too)
½ cup red cabbage, shredded
1 cup organic coconut milk
2 sheets of nori, cut into thin strips about 2 inches long
¼ cup dried or ½ cup fresh shiitake mushrooms
¼ cup miso paste and ½ cup kimchi
Place water, ginger, carrots, onions, broccoli and cabbage into pot, bring to a boil and let simmer for 5-10 minutes, until carrots are fork tender.
Remove from heat, add lemon juice, tamari and coconut milk. Scoop out 1 cup of the broth and whisk with miso until miso paste has dissolved. Pour back into pot. Keep warm on low heat, but do not allow to boil. Serve topped with kimchi.
TIP: Try swapping out your regular loaf of bread for a loaf of sourdough. Traditional sourdough bread is allowed to undergo a slow fermentation process with bacteria native to the area. Fermentation starts to break down anti-nutrients, such as gluten, which may cause damage to the intestinal lining and digestive upset for some people.
2 slices of sourdough bread
Heat a large pan with olive oil over medium heat. Fry tempeh until golden and heated through.
Top bread with Dijon mustard, tempeh, Swiss cheese and sauerkraut. Add more oil to pan if needed. Fry on both sides until golden brown and cheese is melted.
By Joy McCarthy, RNCP, ROHP, CNP joyoushealth.ca. JOYOUS HEALTH: Eat & Live Well without Dieting is now available for pre-order.
TIP: Switch out the meat in meatloaf for tempeh. Tempeh is made by fermenting soybeans. The process of fermentation increases certain nutrients, most significantly B vitamins and protein. When food is fermented, phytic acid is decreased. This is very beneficial as phytic acid interferes with the absorption of minerals. Tempeh is a good source of probiotics because it is fermented. Good bacteria is essential for a strong immune system and helps your body better absorb minerals. Be sure to buy certified organic tempeh to avoid genetically modified foods.
2 cloves garlic, minced, divided
1 tbsp Italian dried herbs
1 ½ cups prepared marinara sauce (look for low-sodium)
Preheat oven to 350°F. Coat large loaf pan with coconut oil. Bring 1/2 cup oats, 1 tsp. garlic, and 1 cup water to a boil in saucepan. Reduce heat to medium-low, cover, and cook 10 minutes, or until oatmeal is thick, stirring occasionally. Remove from heat and set aside.
Heat coconut oil in large skillet over medium heat. Add onion, and sauté 3 to 5 minutes. Add Italian dried herbs and remaining 1 tsp. garlic, and sauté 1 minute more. Add chopped tomatoes. Crumble tempeh into mixture, and stir in vinegar and sugar. Season with salt and pepper, if desired.
Transfer tempeh mixture to food processor, add cooked oatmeal, and blend until combined. Add remaining 1 1/2 cups oats and baking powder, and pulse until combined.
Spread oat mixture in prepared loaf pan. Pour marinara sauce over top. Bake 50 minutes to 1 hour, or until top begins to brown and marinara sauce is hot and bubbly.
'Sweater Weather' Smoothie
TIP: Stoke your digestive fire for the day by enjoying this first thing in the morning. According to Ayurvedic practice we should fortify your body's constitution as the weather gets colder. Nurturing and strengthening the digestive system — especially the beneficial bacteria of our gastro-intestinal tracts — not only improves the efficiency of our digestive process, but also bolsters our body's immune system against disease, including airborne colds and flu viruses that are also gearing up for the months ahead.
(vegan option/gluten free)
1 cup kombucha (flavour of choice), apple cider, or warm water with a squeeze of lemon
1-2 scoops of greens+ whole body Nutrition
½ cup organic yogurt (or cultured, vegan alternative)
2 teaspoons miso paste* (dissolved in a couple of tablespoons of hot water)
¼ cup (4 tbsp) sunflower or walnut butter (or other nut) butter
1 ½ tablespoons raw honey (or maple syrup for vegan option)
2 teaspoons ginger powder
Combine in a blender and blend thoroughly.
*Generally, the lighter the miso paste, the more mild the flavour. The darker miso is, the higher the soy content, and also the "earthier" the taste is.
**simply cover dates in warm water and leave for a couple of hours or overnight to soften
Creamy Green Chameleon Dressing
By Jenn Pike, RYT, RHN, PTS, MES Owner, Simplicity Yoga & Fitness Therapy Studio, Author of The Simplicity Project, www.simplicityyoga.ca
TIP: Add fermented foods to salad dressings and dips to help improve digestion during your meal.
1 teaspoon apple cider vinegar
1/2 teaspoon each of ground ginger, dill leaf, kelp, herb salt (such as Herbamare), turmeric
pinch of cayenne to taste (optional)
Add all ingredients to your blender and blend well. You may need to use your blender's tamper or a spatula to scrape down the sides and keep the mixture moving until everything is thoroughly blended. This smooth, creamy dressing is good to use on salads, works wonderfully as a dip and incredible over pasta or to add some zip to sandwiches and wraps.