CP
Toronto Mayor Rob Ford reportedly intends to participate in the 109th annual Santa Claus parade in the city this weekend.
And at least one father is so angry he won't even let his kids watch on TV.
There was great confusion Monday night as to whether or not the embattled leader would march in the popular parade. Some media outlets said yes while others reported he'd sit it out in light of his admission that he has smoked crack cocaine and the release of a video showing the mayor ranting angrily.
But The Toronto Sun's Don Peat received confirmation from a Ford spokesperson that the mayor will be there Sunday afternoon.
"He just called me and said, 'I'd like to be in the parade, order the candy canes,' " the spokesperson told Peat. "He makes the call and it is his decision whether he wants to or not."
Parade co-chair Ron Barbaro told the Toronto Star that Ford's chief of staff said last week the mayor wouldn't march.
But Ford staffer Amin Massoudi told the Star via text message that the mayor "will be participating in the parade, as he does every year."
That news has raised the ire of Toronto dad Brian Connolly, who feels the mayor sets a poor example for children and should not be taking part in the event.
Connolly evidently wrote an email to parade organizers expressing his "disgust" and posted a copy to Twitter.
My email to 2013 Toronto Santa Claus Parade voicing my DISGUST w/Rob Ford's participation #TOpoli #Toronto pic.twitter.com/rGgryhaitW

— BC (@bconnolly00) November 12, 2013
Connolly wrote:
I am a father of a 5 year old and 7 year old and feel that the message of having Mayor Rob Ford participate in a CHILDREN's Santa Claus Parade is one of "Drink Excessively, Do Drugs, Commit Crime & TELL POLICE TO F… OFF.

Is that the kind of message we really want to teach our children? By allowing Toronto Mayor Rob Ford to participate in the 2013 Santa Claus Parade that's exactly what will happen!

I therefore will refuse to bring my children ANYWHERE near Mayor Rob Ford nor attend the 2013 Toronto Santa Claus Parade or allow my children to watch it on TV.
On Monday, Ford spoke at a Remembrance Day ceremony despite pleas from some councillors and newspaper columnists to skip the event.
He was lightly booed as he took the stage and an 80-year-old veteran later refused to shake his hand.
"I didn't shake his hand because he's a drug addict, a druggie,'' Tony Smith said. "He's No. 1 man in the city and he's smoking up and boozing it up. I don't mind people having a drink. I certainly don't agree with drugs."
But the mayor could be buoyed by the hundreds of people who went to City Hall on Tuesday to purchase a Ford bobblehead — called a "Robbie Bobbie." Proceeds are going to charity.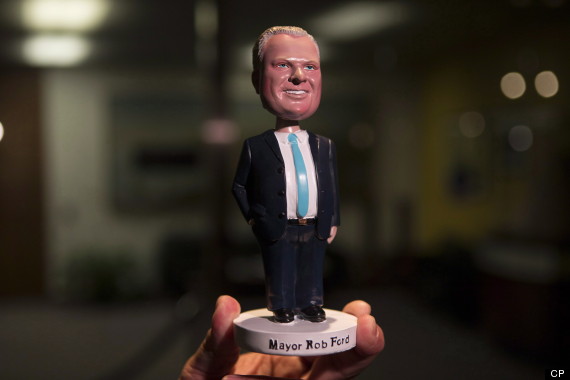 "It speaks volumes by the amount of people that are downstairs (lining up)," Doug Ford said. "I don't think there's a politician in the country, including the prime minister, that could have bobblehead dolls and have them line up around the corner."
In an informal poll conducted by CityNews, 59 per cent said the mayor should skip the parade, while 41 per cent said he should not.
With files from The Canadian Press
Also on HuffPost
Photo gallery
Police Surveillance Of Rob Ford
See Gallery