A racist add in Kijiji could very easily have enflamed the interwebs with anger and vitriol.
But Calgary online citizens fired back instead with a little education and a lot of humour.
The ad, posted on the popular classifieds site, advertises a master bedroom for rent for $500 per month, with the clause, "white people unacceptable sorry."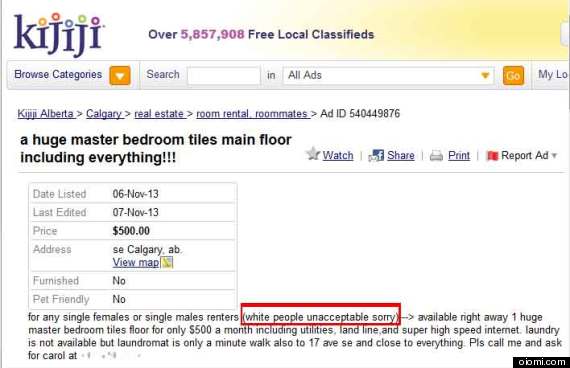 "The Human Rights, Citizenship and Multiculturalism Act specifically prohibits discrimination in various ways when renting property to tenants, but this Calgary landlord obviously did not get the memo," states a post on oiomi.com, which ran an image of the ad.
"Reading the advertisement on Kijiji, I cannot help but notice that the landlord is as knowledgeable about spelling, grammar, punctuation, and capitalization as she is about the laws of the land."
Reddit, however, decided to approach to the subject with a dash of Cowtown humour.
"Oh man, I wish I wasn't white... It has super high speed internet," commented tehdisco.
"I think of everything in that ad, the not being able to use the washer/dryer but having the master bedroom, baffles me the most," added ArchdukeAwesomeSauce.
Calgary radio station X92.9 chimed in on its Facebook page stating, "What is it you don't like about white people? Is it the friends reruns?"
The person behind the ad told Metro Calgary she posted it but that is not the text she wrote down, claiming the ad must have been hacked.
"I posted the ad but it doesn't say that thing, you know, 'white people are unacceptable,'" Carol Dela Cruz told Metro.
"That's a very racist thing."
The ad shows it was originally posted on Nov. 7 but then edited on Nov. 8.
Some on Reddit were already questioning the legitimacy of the ad.
"Who would be so obviously racist and include a phone number and not expect some backlash? If it's actually a legit ad, the person who posted it is likely mentally unstable," said MinusB31.
There were also many who came across the ad and had strong feelings about it.
"I'm not white and this pisses me off. Just unacceptable," added CecilDeMille.
Read the rest of the Kijiji ad comments here.
Also on HuffPost