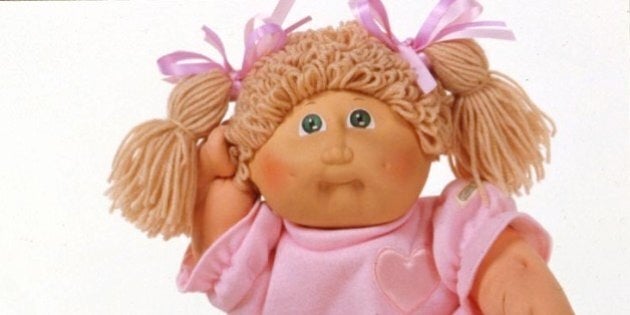 Children of the '80s, get ready to feel old. The Cabbage Patch Kids, those much-coveted adopted dolls that inspired bribery and fistfights among parents dedicated to getting the 'must-have' toy of 1983, are turning 30 this weekend. That's right, your doll with the Xavier Roberts signature on its butt is now old enough to buy a house, hold down a secure job and maybe have a couple newborn Cabbage Patches of their own.
And of course, it never stopped at the dolls. The clever marketers behind whichever company owned the license to the dolls (those babies have had at least five corporate "parents" over the years) had the real parents buying playpens, diapers, strollers and many more accessories for their kids' dolls. Meanwhile, Babyland General Hospital, the fictional institution on the Kids' adoption papers, has become a reality, taking over an abandoned medical facility in Cleveland so real live children can see their dolls' "birthing process."
But you didn't have to be quite so intense about them to enjoy what Cabbage Patch Kids had to offer. Their appeal, which has been widely debated and has even inspired some conspiracy theories, lay in their lifelike "squishiness," their individuality and of course, the adoption papers that let every kid feel like this doll was meant for them and them only.
Want to celebrate that original feeling of proprietorship? Toys "R" Us stores in Coquitlam, B.C.; West Edmonton and Cross Iron Mills, Alberta; Vandreuil, Quebec; and Vaughan Mills and Sherway Gardens, Ontario are all holding events featuring "vintage kids" with special prices on Saturday, November 16.
But if you can't make it out, take a walk down memory lane and check these Kids from the past 30 years. And if you remember your Cabbage Patch Kid, be sure to let us know his or her name in the comments below — at the very least, it'll be a good look at which names were really popular back in the early '80s.