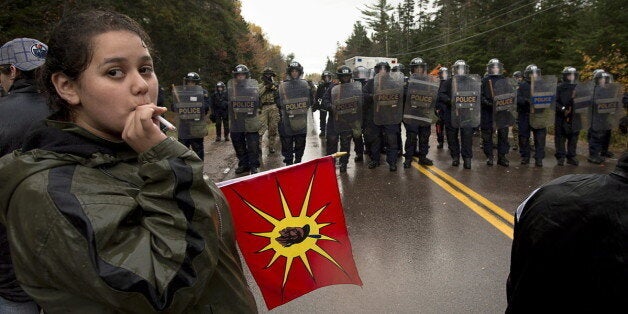 FREDERICTON - A judge in New Brunswick has reserved her decision on an application by the Elsipogtog First Nation for an injunction to stop a company from conducting seismic testing for shale gas.
Judge Judy Clendenning of the Court of Queen's Bench will deliver her judgment Monday afternoon.
Matt Hayes, a lawyer for energy company SWN Resources, told the court in Fredericton that his client isn't violating anyone's rights by conducting seismic testing.
The band's application says First Nation rights have been violated and there is a risk of a repeat of the violent clash that happened between police and protesters near Rexton on Oct. 17 if exploration is allowed to continue.
In an affidavit, Elsipogtog Chief Aaron Sock says he has been informed that members of his community and other First Nations will respond if SWN continues with exploration and the RCMP are present.
He says that could result in SWN's equipment being vandalized and that First Nations Warriors will be present to defend Elsipogtog territory.
But Richard Williams, representing New Brunswick's attorney general, and the minister of energy and mines, told the judge an injunction should not be granted based on hearsay that something might happen.