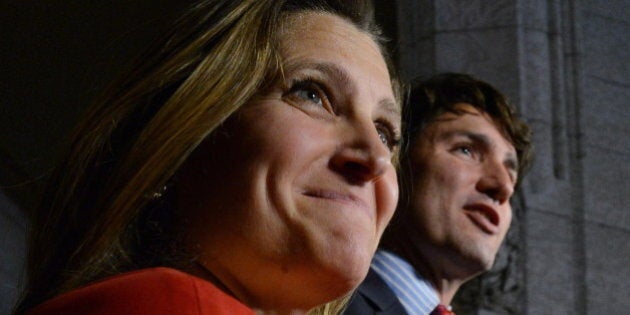 OTTAWA — The NDP and the Liberals may be locked in nasty war of words in the Toronto Centre by-election but New Democrats were big fans of Chrystia Freeland before she became the Grit candidate.
NDP finance critic Peggy Nash sought a meeting with the former journalist and bestselling author during a March visit to New York City with NDP Leader Thomas Mulcair. At the time Freeland was a managing director and editor at Thomson Reuters in Manhattan.
Just days before Freeland announced plans to move back to Canada and compete for the Liberal nomination, the Broadbent Institute also approached her to be a keynote speaker at its inaugural progressive policy summit.
"We are keen admirers of Chrystia's excellent work on the inequality file, both as an editor and reporter, and more pointedly, in her critically acclaimed 'Plutocrats'," wrote Jonathan Sas, the director of research at the Broadbent Institute in an email dated July 23, inquiring about her speaking fee and availability.
On July 27, Freeland revealed in an interview she was leaving New York to vie for Toronto Centre, a riding held by Grits since 1993 and vacated by former interim leader Bob Rae's departure.
Sas told The Huffington Post Canada that Freeland never responded to the invitation but that the Institute, which describes itself as socially democratic but nonpartisan, wouldn't have booked her or Linda McQuaig, her current NDP opponent in Toronto-Centre, because both are now politicians.
"We were certainly interested in bringing Chrystia. I don't think anyone questions that her book was an important contribution to the discussion and how the 1 per cent/99 per cent discourse emerged and its relevance," he said.
Freeland was one of the columnists in The Globe and Mail's Report on Business who was consistently publishing on the growing income gap, Sas added.
"Before she had taken the Liberal nomination, she was definitely someone we're interested in," he said.
Nash told HuffPost she only emailed Freeland for a courtesy call because she'd read her book and columns in The Globe and wanted to meet her.
"I thought her work studying the richest people in the world was a real eye-opener and because she was dealing with economic issues, I thought she might want to get a first-hand knowledge of what was happening in Canada and what we were raising as the opposition," Nash said.
"I would follow her work and certainly there were columns of hers that I certainly thought highly of, and others may be less so," Nash added.
The meeting was important enough that Mulcair's executive assistant, George Smith, was asked to set up the details. Mulcair wasn't available but Nash was "available and very willing to sit down" for coffee, drink or early dinner, Smith wrote to Freeland.
The meeting never occurred because of scheduling conflicts, despite 12 emails back and forth.
Freeland told HuffPost she thought the NDP was interested in speaking with her about her ideas.
"My assumption was that they were interested in my thinking and the work that I had done on income inequality and wanted my advice and my thoughts about it."
There is now a stiff fight in Toronto Centre between Freeland and McQuaig, a columnist for the Toronto Star and the author of The Trouble with Billionaires.
The NDP is aggressively targeting the seat and painting Freeland, a native Albertan, as someone who — like former Liberal leader Michael Ignatieff — spent too much time outside of the country. The NDP has taken a more negative tone than previous campaigns, a step Mulcair signalled ahead of the NDP caucus meeting in September.
The party is also distributing leaflets suggesting Liberal Leader Justin Trudeau supports the big oil industry and fewer environmental regulations because he favours the Keystone XL pipeline. Mulcair is against Keystone but has said he supports oilsands development and prefers a west-east pipeline in Canada.
McQuaig has accused Freeland of ducking debates. And NDP supporters suggested Sunday that the Liberals are weak on gay and lesbian issues because Freeland door-knocked with Liberal MP John McKay, one of the few Grits who voted against same-sex marriage. New Democrats on Twitter have also pointed out that Freeland once referred to former U.S. vice-presidential candidate Sarah Palin, a self-made woman, as a "feminist hero" in one of her columns.
A video of Mulcair contradicting McQuaig's support for Israeli Apartheid week is circulating online and the NDP leader has had to distance himself away from McQuaig's support for a 70 per cent personal tax increase on the super wealthy.
Perhaps the most biting criticism towards Freeland from McQuaig is that she doesn't believe the growing income gap is a problem.
"Frankly, in reading your stuff, I don't see any solutions to income inequality. I don't even see a clear statement that there is something wrong with income inequality," McQuaig told the Liberal candidate during their first debate last Wednesday.
Freeland's book does argue there is a problem with the growing gap between the super-rich and the rest but in an interview she said the problem of the shrinking middle class deserves a more complex answer than McQuaig gives, and she doesn't think tax increases are the solution.
Freeland said part of the answer should be a focus on social opportunity, investments in entrepreneurship, and using Canada's diverse communities to build deeper trade relationships.
Freeland, whose mother Halyna Chomiak Freeland ran for the NDP in 1988 in Edmonton—Strathcona, told HuffPost she's surprised by the personal tone of the party's negative attacks.
"Because as my mother's daughter I feel — I felt, anyway — a lot of shared values and some of those shared values are about a positive public discourse that is focused on the needs of people," Freeland told HuffPost.
Freeland said the NDP is taking a page from Stephen Harper's playbook.
"I've been surprised by the overall personal tone of the attacks," she added, declining to say which ones in particular.
"This kind of negative tone in politics, it leads exactly to people being disengaged and giving up on democracy and I think that is tremendously dangerous," she said.
"What is particularly disappointing is I know, and as you now know, people in the NDP have been interested in my ideas and I'm glad they were. I'm just disappointed."