CALGARY - A black Labrador retriever named Hawk has joined the Calgary Police Service to help support witnesses and victims of crime.
The three-year-old canine's job as a so-called trauma dog is to calm people and encourage them to open up to investigators.
His primary handler, Sgt. Brent Hutt, says Hawk has already been a big help since he joined the police service in October.
Hawk was raised and trained by the Pacific Assistance Dog Society.
Story continues after photo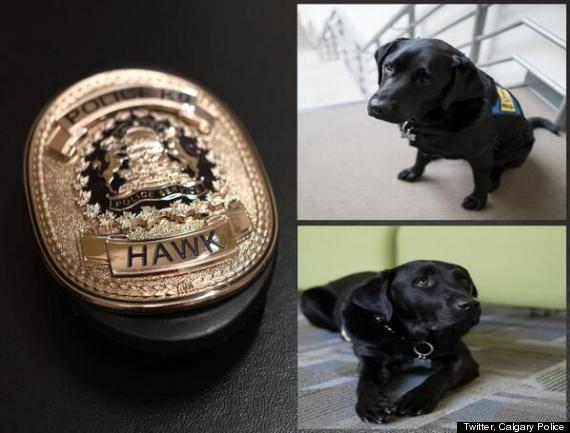 The group provides canine assistance to people in Western Canada who have disabilities.
Hawk is believed to be only the third trauma dog in Canada.
Two others work with the Delta Police Department in B.C. and the Camrose Police Service in central Alberta.
Hawk received his badge at a ceremony on Monday.
"What he does is what we see him doing with these kids here right now," said Hutt. "Just lying there and being able to create that environment (where) we're able to open up the conversation with somebody that might otherwise have been difficult to do."
Hutt said Hawk wins everybody over.
"If you like dogs, you'll like Hawk. If you're not sure about dogs, you'll probably love Hawk, because if you ever get down and give him a good pet, he just loves it. It just helps calm and lower ... anxiety."
Also on HuffPost