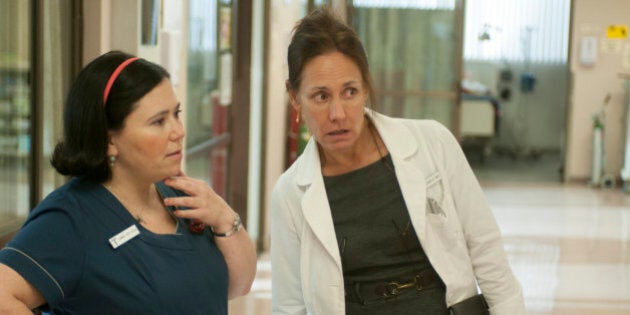 We all know that voice. Alex Borstein's signature nasal voice (exaggerated for TV) is either recognized as Ms. Swan from "MADtv" or as the sarcastic Lois from "Family Guy," but in her latest role, she's almost unidentifiable. Gone are the costumes of sketch comedy; Borstein is playing a real-life, non-animated woman, Dawn, who works at an extended-care wing of a hospital.
Yes, in HBO's "Getting On," Borstein is tackling a new challenge, where she's dealing in drama rather than solely comedy, and it's not just a bit part. She co-stars with two other well-known leading comedy ladies, Laurie Metcalf ("Roseanne," "Big Bang Theory") and Niecy Nash ("The Soul Man," "Reno 911!"). As odd a trio as ever, somehow the chemistry really, really works.
HuffPost TV chatted with Borstein about "Getting On," working with these amazing women, and the highs and lows of sharing the screen with elderly actors.
HuffPost TV: "Getting On" isn't wholly a comedy, nor is it a drama. I wouldn't know quite what to call it.
Alex Borstein: That's one of the reasons I love it so much! It's really difficult to define and it's such an interesting tone. It's not what you see every day. It's either going to really hit home with people, and people will love it, or they'll say 'What the hell is this?' I think audiences are starting to desire more of that. I should say that at least I am. I know, watching "Breaking Bad," I was just as much enamoured with the comedic moments as the really dark turns.
These "niche" shows -- I'll use "Orange Is The New Black" as an example -- are huge right now. On TV, we're really entering these worlds we never even thought of before.
Yeah, and as an actor, to get to play a character like this, it doesn't come along every day. Especially at my age, it's like, 'You play the mom! Here's how to define your character -- she's a mom! You're the put-upon wife!' There's not a lot of room to be a person, and I feel so lucky to be playing a real, live human being. She's a beautiful mess. She's stuck at a junior-high level of maturity, but in this position where peoples' lives depend on her.
Do you like being able to work your dramatic chops rather than solely comedy?
Yeah, for sure. I guess I wouldn't say, "Oh, I really like doing the drama for the sake of doing the drama," but I do like playing a complete person. Most of the roles I've had have been smaller, too, where I work for a couple days, or if it's a movie I go in for a couple weeks. This is such a different animal, and I'm there for the long haul.
Going into palliative care wards, hospices, or long-term care facilities isn't easy. Had you ever, before this, had experience in your life with these sorts of environments?
I did. I lost my grandmother a few years ago and went through this experience. There were many times on set for this show when I'd get all choked up. One of the first scenes in the episode is when I'm holding this patient's hand, and just holding her hand made me very emotional. It's a part of life that no one really wants to talk about, even though we're all going to go out that way. Specifically, this is a women's ward. We're all going to lose our moms, and we're going to be orphans, whether we're 20, 40, 50 or 60. I don't think it ever gets easier to lose your mother. Women become so invisible after a certain age, and I just love that "Getting On" gives them visibility.
What is it like working with so many elderly actors?
A lot of the women we're working with, they're facing [death and dying]. They're looking down the barrel; some of them are in their 80s and 90s. One of the women cast in the pilot had to be recast at the last minute because she fell in real life and broke her shoulder. It's a really fragile place that these people are in, and it's really touching to get to know them.
How do you deal with that? Is it sad on set?
Every woman who's working on the show is so brilliant and so good. It's such an untapped market. They're all so happy to be working and playing real people, so that would always bring me back between takes. We had a lot of fun with these seasoned, amazing women. Jane Squibb plays a part in one of our episodes [Ed. Note: She steals the entire episode], and I think she's going to become a household name. She's so funny. But yeah, their humour sort of balances out any feelings of melancholy I may have. It's like the show itself - laughing and crying all at once.
The casting is great, and kind of unusual. The trio at the top - you, Laurie Metcalf and Niecy Nash - is not one I would expect to see, but somehow it works.
No! [Laughs] I know! It's so nice. It's lovely that we're not babies in this industry anymore. We're grown-up, we're settled, we have families. It's such a pleasure. There's no bullshit, there's no drama. We all got along famously. And we all love to eat! [Laughs] We'll watch other people's scenes, and just be in awe of each other. We're constantly in love with each other's scenes. Sometimes we get lost, as well, like when I work with Laurie, sometimes I forget to speak I'm so engrossed in what she's saying.
How does your character, Dawn, grow over the six episodes of "Getting On"?
I think she's an adorable mess. She's a complete slob on the inside, but she thinks she has it all together with her handband and pins. Niecy and Laurie, their characters, see right through Dawn. She can be manipulative, but she desperately wants to please everyone. She wants to feel in control -- she sees Laurie's character as her mom, and really wants to make sure she's happy. Dawn is like a 13-year-old in a grown woman's body, relationship-wise and maturity-wise.
Does she ever find love or any sort of reciprocation from anybody?
Well, I don't think she knows the difference between sex and love. She gets close to people, and has ... [Laughs] interesting things happen with people. I don't know if it can be described as love. But every time someone even looks at Dawn, to her it's love. One of the reasons she works in the extended-care wing is because she knows that she's probably going to end up alone like many of them. She wants to know that someone will be there to take care of her when her time comes.
"Getting On" premieres on HBO and HBO Canada on November 24 at 10 p.m. EST/MST.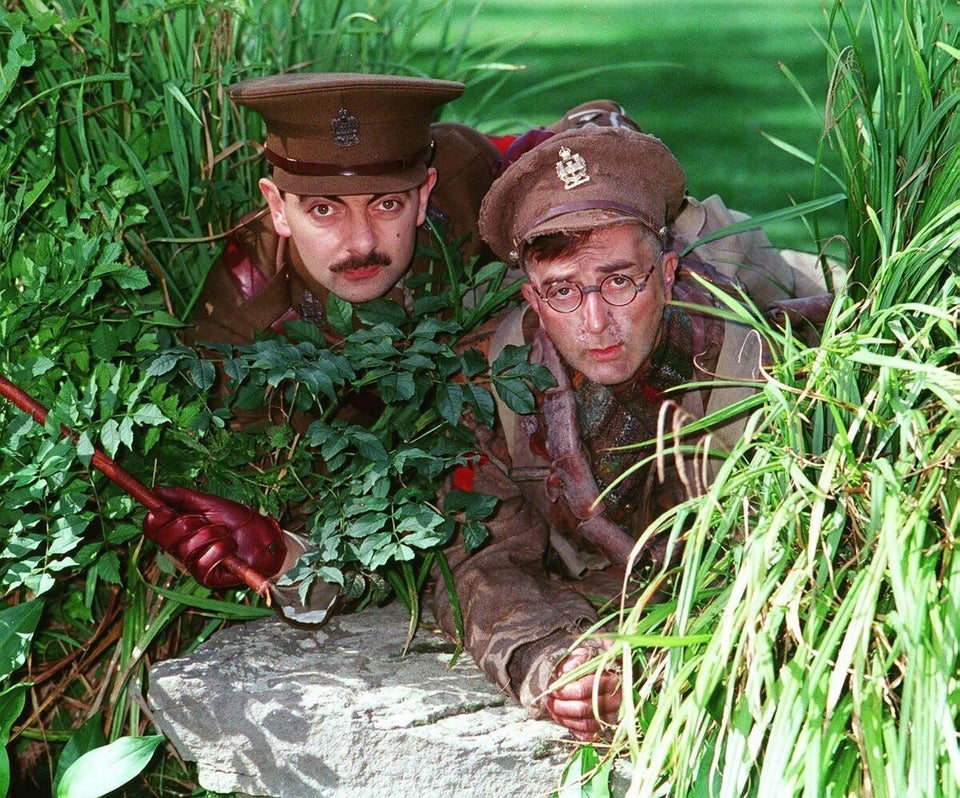 The Only Binge-Viewing List You'll Ever Need