An ad for a rare Lamborghini posted just over a week ago to Craigslist has been found to be a fake.
The ad claimed the luxurious Murcielago SV was one of only 350 ever made, and one of just 10 in Canada, and asked for a firm price of $388,888 or " trade + cash to take the car back to China. Value of trade must be $200,000 minimum."
The seller also posted that the car "must sell before Lunar New Year," and that it was being sold before they moved back to China after graduating next year. The poster listed their location as Richmond/UBC.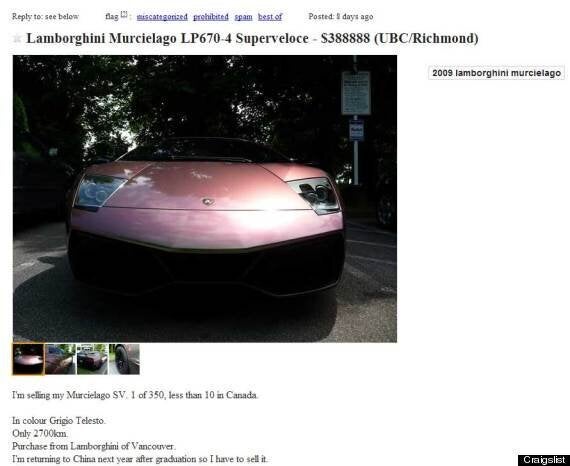 Media outlets including CBC News, Global News, The Province and UBC student newspaper The Ubyssey all contacted the poster with interview requests. Vancity Buzz and the Georgia Straight did stories on the ad, noting that there was a "chance" it could be fake.
Which, indeed, it was, The Ubyssey reported.
The student newspaper said they contacted the e-mail listed in the ad and received a reply saying there was no Lamborghini for sale.
The responder identified himself as a family friend of the poster and said the ad was posted as a joke.
The prankster had taken photos of the car from various internet forums in order to make it look like it belonged to him and had not considered he would be fielding calls from journalists, the friend said.
In the meantime, the ad remains active on Craigslist, possibly drawing enormous interest from students with hundreds of thousands of dollars to spare.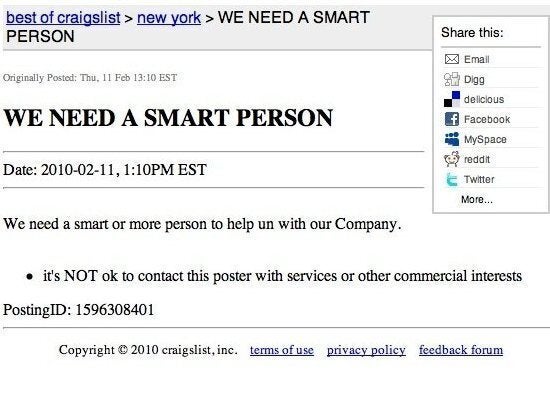 The Craziest Craigslist Ads