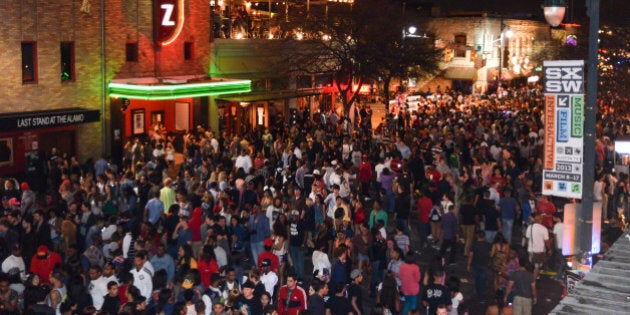 Though the SXSW has outgrown its original moniker as indie rock spring break -- last year attracted everyone from Al Gore to James Franco to Justin Timberlake -- but music remains it's heart and soul. Overall we can expect more than 2000 artists, singers and bands to play, and the South-by-Southwest organizers have just released their second round of names.
The better known names include long-running rapper Talib Kweli, synthesizer pioneer Gary Numan and garage-rockers Black Lips. But the real revelation on this round is the sheer number of Canadians, a great boon to the new musical alliance signed between the cities of Austin and Toronto.
Canadian acts include Broken Social Scene's Kevin Drew, Tragically Hip's Gord Downie with The Sadies, Zeus, Trust and The Darcys from Toronto, The Arkells from Hamilton, The Belle Game and The Pack A.D. from Vancouver, Aidan Knight from Victoria, Sam Roberts Band from Montreal and A Tribe Called Red from Ottawa.
Air Traffic Controller (Boston MA)
Alika & Nueva Alianza (Los Angeles CA)
Anushka (Brighton UK-ENGLAND)
The Apache Relay (Nashville TN)
Arkells (Hamilton CANADA)
Jay Arner (Vancouver CANADA)
Syd Arthur (Canterbury UK-ENGLAND)
Nicole Atkins (Asbury NJ)
Baby In Vain (Copenhagen DENMARK)
Ballet School (Berlin GERMANY)
The Bambir (Gyumri ARMENIA)
Richard Barone (New York NY)
The Baseball Project (Portland OR)
James Bay (Hitchin UK-ENGLAND)
Arthur Beatrice (London UK-ENGLAND)
Greta Svabo Bech (Tórshavn FAROE ISLANDS)
Andrew Belle (Chicago IL)
The Belle Game (Vancouver CANADA)
Bestial Mouths (Los Angeles CA)
Big Phony (Seoul SOUTH KOREA)
The Binary Code (Clifton NJ)
Bipolar Sunshine (Manchester UK-ENGLAND)
Black City Lights (Wellington NEW ZEALAND)
The Black Lillies (Knoxville AK)
Black Pistol Fire (Austin TX)
The Blind Pets (Austin TX)
Blondfire (Los Angeles CA)
Bobby Jealousy (Austin TX)
Boy and Bear (Sydney AUSTRALIA)
Will Brennan (Atlanta GA)
Brick + Mortar (Toms River NJ)
Tom Brosseau (Los Angeles CA)
Buffalo Killers (Cincinnati OH)
Cairn String Quartet (Glasgow UK-SCOTLAND)
Catfish and the Bottlemen (Llandudno UK-WALES)
Dustin Cavazos (Dallas TX)
Cello Fury (Pittsburgh PA)
Cerebral Ballzy (Brooklyn NY)
Tim Chaisson (Charlottetown UNITED STATES)
Circuit des Yeux (Chicago IL)
Cloud Boat (London UK-ENGLAND)
Cocos Lovers (Deal UK-ENGLAND)
Cole Boyz (Huntsville AL)
The Colourist (Orange County CA)
Communist Daughter (Saint Paul MN)
The Crookes (Sheffield UK-ENGLAND)
Fauntella Crow (Venice Beach CA)
Crying Nut (Seoul SOUTH KOREA)
Daley (Manchester UK-ENGLAND)
The Darcys (Toronto CANADA)
Dead C (Dunedin NEW ZEALAND)
The Delta Riggs (Melbourne AUSTRALIA)
Diarrhea Planet (Nashville TN)
Gord Downie & The Sadies (Toronto CANADA)
Kevin Drew (Toronto CANADA)
Dub Fx (Melbourne AUSTRALIA)
Dune Rats (Brisbane AUSTRALIA)
The Eastern Sea (Austin TX)
Tim Easton (Nashville TN)
Elizabeth & the Catapult (Brooklyn NY)
Esben and the Witch (London UK-ENGLAND)
Dana Falconberry (Austin TX)
The Farewell Drifters (Nashville TN)
Fear Of Men (Brighton UK-ENGLAND)
Flo Morrissey (London UK-ENGLAND)
Nils Frahm (Berlin GERMANY)
Sage Francis (Providence RI)
Fresno (Porto Alegre PORTUGAL)
Future Islands (Baltimore MD)
Galaxy Express (Seoul SOUTH KOREA)
Travis Garland (Lubbock TX)
The Ghost of a Saber Tooth Tiger (New York NY)
Colin Gilmore (Austin TX)
The Giving Tree Band (Yorkville IL)
Glen Check (Seoul SOUTH KOREA)
G. Love (Philadelphia PA)
Gossling (Melbourne AUSTRALIA)
Jon Dee Graham (Austin TX)
The Great American Canyon Band (Baltimore MD)
Great Good Fine Ok (Brooklyn NY)
Jackie Greene (Sacramento CA)
Ha Ha Tonka (Springfield MO)
Danny B. Harvey (Austin TX)
The Heatwave (London UK-ENGLAND)
Heavy Cream (Nashville TN)
Hellbenders (Brasília BRAZIL)
Hi Fashion (Los Angeles CA)
Highasakite (Oslo NORWAY)
The History Of Apple Pie (London UK-ENGLAND)
Hollywoodfun Downstairs (Wellington NEW ZEALAND)
Hurray for the Riff Raff (New Orleans LA)
Idiotape (Seoul SOUTH KOREA)
In The Valley Below (Echo Park CA)
James Iha (Los Angeles CA)
Intertwine (Trondheim NORWAY)
Maya Isacowitz (Tel- Aviv ISRAEL)
Ivan and the Parazol (Budapest HUNGARY)
Jambinai (Seoul SOUTH KOREA)
Jamestown Revival (Austin TX)
Jonny Two Bags (Orange County CA)
Jungles from Red Bacteria Vacuum (Tokyo JAPAN)
Kabul Dreams (Kabul AFGHANISTAN )
Tori Kelly (Los Angeles CA)
Kid Mac (Maroubra AUSTRALIA)
Kiha & The Faces (Seoul SOUTH KOREA)
King Parrot (Melbourne AUSTRALIA)
Aidan Knight (Victoria CANADA)
The Kooks (Brighton UK-ENGLAND)
Kumbia Queers (Buenos Aires ARGENTINA)
La Femme (Biarritz FRANCE)
Tory Lanez (Toronto CANADA)
The Launderettes (Oslo NORWAY)
League of Extraordinary Gz (Austin TX) Little Hurricane (San Diego CA)
Love Inks (Austin TX) LYS (Rennes FRANCE)
MAO (Brighton UK-ENGLAND)
Mariachi Las Altenas (San Antonio TX)Mariachi Las Pioneras de Mexico (Mexico City MEXICO)
The Mastersons (Austin TX)
Arthur Matos (Aracaju BRAZIL)
Chuck Mead & His Grassy Knoll Boys (Nashville TN)
Mendetz (Barcelona SPAIN)
Jeremy Messersmith (Minneapolis MN)
Mister and Mississippi (Utrecht THE NETHERLANDS)
Hedvig Mollestad Trio (Oslo NORWAY)
MONOKINO (Amsterdam THE NETHERLANDS)
Tanya Morgan (Brooklyn NY)
Morning Parade (Essex UK-ENGLAND)
Natasha Mosley (Atlanta GA)
The Moth & The Flame (Provo UT)
Mothercoat (Fukaya JAPAN)
Mother Falcon (Austin TX)
The Muckers (Tehran IRAN)
Meg Myers (Los Angeles CA)
Mystic Braves (Los Angeles CA)
John Newman (Yorkshire Dales UK-ENGLAND)
Nightbox (Toronto CANADA)
No Brain (Seoul SOUTH KOREA)
Nubes en mi Casa (Buenos Aires ARGENTINA)
Gary Numan (Los Angeles CA)
Of Mice & Men (Costa Mesa CA)
Oh Mercy (Melbourne AUSTRALIA)
The Pack A.D. (Vancouver CANADA)
Paper Lions (Charlottetown UNITED STATES)
Parade of Lights (Los Angeles CA)
The Parlotones (Johannesburg SOUTH AFRICA)
The Parrots (Madrid SPAIN)
Peelander-Z (New York NY)
Perrosky (Santiago CHILE)
Peterson Brothers Band (Bastrop TX)
Phantogram (Saratoga Springs AK)
Pick A Piper (Toronto CANADA)
Pins (Manchester UK-ENGLAND)
Plastic Flowers (Thessaloniki GREECE)
Steve Poltz (San Diego CA)
Pommez Internacional (Buenos Aires ARGENTINA)
Poolside (Los Angeles CA)
Potty Mouth (Northampton MA)
Prides (Glasgow UK-SCOTLAND)
Public Service Broadcasting (London UK-ENGLAND)
Quantic (Bogoto COLOMBIA)
Question (San Antonio TX)
Quiet Company (Austin TX)
David Ramirez (Austin TX)
Random Recipe (Montreal CANADA)
Rey Pila (Mexico City MEXICO)
Sam Roberts Band (Montreal CANADA)
Rich Robinson Band (Atlanta GA)
Rockie Fresh (Chicago IL)
Rock N' Roll Radio (Seoul SOUTH KOREA)
Roge (Rio De Janeiro BRAZIL)
Royal Blood (Brighton UK-ENGLAND)
Sage The Gemini (Fairfield CA)
Saintseneca (Columbus OH)
Scars on 45 (Bradford UK-ENGLAND)
Danny Schmidt (Austin TX)
Sentimental City Romance (Tokyo JAPAN)
September Girls (Dublin IRELAND)
Andy Shauf (Regina CANADA)
Billy Joe Shaver (Waco TX)
Side Effect (Yangon MYANMAR)
Keaton Simons (Los Angeles CA)
Sister Sparrow & The Dirty Birds (Brooklyn NY)
Skream (Croydon UK-ENGLAND)
Sleeper Agent (Bowling Green KY)
Slick Shoota (Oslo NORWAY)
SL Jones (Little Rock AR)
Slow Down, Molasses (Saskatoon CANADA)
Snow Ghosts (London UK-ENGLAND)
Sobrenadar (Buenos Aires ARGENTINA)
Social Studies (San Francisco CA)
Soft Swells (Los Angeles CA)
The Soil & the Sun (Grand Rapids MI)
The So So Glos (Brooklyn NY)
Southern Hospitality DJ's (London UK-ENGLAND)
Spirit Animal (Brooklyn NY)
The Standards (Bangkok THAILAND)
The Starbems (Tokyo JAPAN)
Nano Stern (Santiago CHILE)
Lindsey Stirling (Arizona AZ)
Streets of Laredo (Brooklyn NY)
S U R V I V E (Austin TX)
Suzy Bogguss (Nashville TN)
Swear and Shake (Brooklyn NY)
Talib Kweli (Brooklyn NY)
Tashaki Miyaki (Los Angeles CA)
Tensnake (Hamburg GERMANY)
Ana Tijoux (Santiago CHILE)
Timber Timbre (Toronto ON)
Touch Sensitive (Sydney AUSTRALIA)
Tourist (London UK-ENGLAND)
A Tribe Called Red (Ottawa CANADA)
Troker (Guadalajara MEXICO)
Truckfighters (Orebro SWEDEN)
Tumbleweed Wanderers (Oakland CA)
Gavin Turek (Los Angeles AK)
Univers (Barcelona SPAIN)
Unknown (Belfast UK-N. IRELAND)
The Unlikely Candidates (Fort Worth TX)
Until The Ribbon Breaks (Cardiff UK-WALES)
Utopians (Buenos Aires ARGENTINA)
The Vegabonds (Nashville TN)
Soledad Vélez (Concepción CHILE)
Kiko Veneno (Madrid SPAIN)
Venomous Maximus (Houston TX)
Patricia Vonne (Austin TX)
Vulture Industries (Bergen NORWAY)
Mayu Wakisaka (Tokyo JAPAN)
Natalie Walker (Denver CO)
Watercolours (Auckland NEW ZEALAND)
Willie Watson (Nashville TN)
We Were Promised Jetpacks (Edinburgh UK-SCOTLAND)
What So Not (Sydney AUSTRALIA)
White City (Kabul AFGHANISTAN)
The Wilderness of Manitoba (Toronto CANADA)
The Wild Wild (Santa Cruz CA)
Saul Williams (New York NY)
Wolf Alice (London UK-ENGLAND)
Carolyn Wonderland (Austin TX)
Steve Wynn (Jackson Heights NY)
ChihiroYamazaki+ROUTE14band (Tokyo JAPAN)
Sidney York (Calgary CANADA)
Conner Youngblood (Dallas TX)
Young Guns (London UK-ENGLAND)