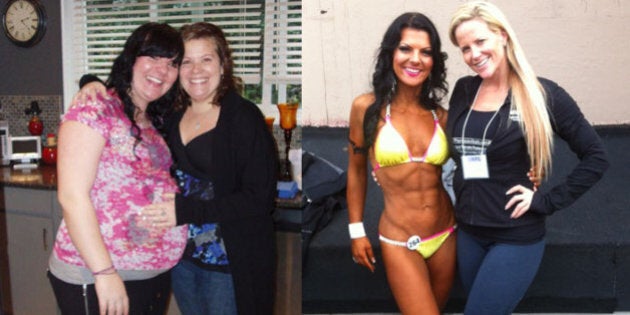 By The Numbers: 242 at my heaviest, 129 now, total weight loss of 113 pounds
The Weight Gain: I used to be really active in high school and was on the volleyball and basketball teams, and I even did field hockey. I was also in cadets, and pretty much ate what I wanted to. I gained some weight in my last year of high school, but lost it in the following years by walking to work and fortunately, having a roommate who cooked most of our meals.
Then around the age of 24, I got into a serious relationship, moved out from my roommate, stopped going to volleyball, stopped being active in general. We actually both ended up gaining weight — I gained nearly 50 pounds and he had gained 45. You can imagine, we just loved one another and loved eating together. I stayed heavy for a good three years and I remember my breaking point was when I was almost into a size 18 pants.
I gained and lost probably 30 pounds at that time, going through a divorce, emotionally eating my way through it and then getting myself back to where I wanted to be weight-wise. Then I married my now husband and got pregnant, but about a month after my son was born, I was sitting at 242. It was the most I'd ever been.
The Final Straw: With the weight gain before it had been my pant size, but now it was seeing photos of me holding my son and thinking 'Oh my God, I want to be around for him. I want to be healthy for him and my partner and me.' I knew the time was now and that it had to be forever. My biggest thing was that I didn't want my son to grow up going through weight problems like I did.
Story Continues Below. Check out more of our inspiring weight loss stories: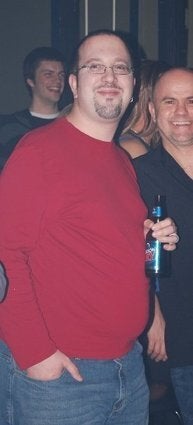 Lost It: Weight Loss Success Stories
The Plan Of Attack: I was embarrassed to go to a gym, embarrassed people would be looking at me, so I started walking outside and jogging around my neighbourhood. At home, I bought some resistance bands and small little hand weights, but nothing crazy. About a month or two months later, I started feeling more comfortable with my body and physical ability, so I enrolled in an all-women's gym.
The Food Element: I knew it was definitely the way I was eating and the times I was eating it. I'm a carb lover through and through, and I would tend to eat them at the worst possible time, which is nighttime, and then go to bed. So I started cutting that out — I was still having carbs and eating things I liked, I just wasn't having them at my last meal of the day. Dinner would be protein and veggies, and then once I started training for competitions, I got myself on a regimen (see more below).
The Exercise Factor: I joined a Goodlife Fitness after my women's gym, and fell in love with it. They had classes, like boot camp, body combat and some yoga classes, which was really attractive to me.
By this point, I was down to 162. People at the gym were starting to prepare for a competition and I was in awe of these women's bodies — they had muscles and they were very beautiful, so I thought 'maybe I should try some weight training.' I started by watching people and saw their movements, then went online and searched to get an idea what exercises I needed to do for the parts of my body I wanted to work on.
There was one girl I always looked at because she was so fit, and I found out some background on her. Her name was Aeryon Ashlie, and learned about her competitions and work with SD Pharmaceuticals. She had a blog I started reading that I became addicted to because it was so straight from the hip.
Finally I met her and she told me to set goals. We started working together and I learned how to eat properly. I used to be afraid of fats and once Aeryon gave me the basic tools I needed, I was losing weight more quickly because I was actually speeding up my metabolism naturally and in a healthy way.
It took me a year and a half to lose all the weight, but in the last months working with Aeryon, I lost about 37 pounds.
The Current Day-To-Day: My fitness life now is that I go six days a week to the gym and eat six to seven meals a day. I'm up at 4 a.m., and at the gym by 4:20. My workout consists of 15 minutes of cardio, on a stair climber or a big incline on the treadmill or elliptical. Then I do four or five exercises for either my arms and chest, or legs, depending on the day, then whatever cardio equipment I want for 30 minutes. I'm out of there by 6:10, go home, get my son ready and drop him at daycare, then head to work.
For diet, I have pretty specific meals. At 4:15, it's a cup of egg whites with ¼ cup oatmeal and make a pancake, along with 10 to 12 almonds or peanut butter on the pancake. At 7, I eat a chicken breast with green beans and red pepper. At 11:30, lunch is ground chicken or tuna wrap with a vegetable, and more almond. At 2, I have a protein shake, a piece of fruit and two rice cakes with peanut butter. For dinner at 6, it's ground meat or a fish. And my night meal at 8 is a cup of egg whites with peanut butter mixed in — seriously, it's delicious. I switch up what I eat, but I always stick with my same percentages of fats and carbs and proteins.
I wish I had done this so much sooner. I obviously wish I could take Aeryon and put her back a few years with me, but I wish I had made getting someone professional involved a priority, and not been so timid and shy and afraid to.
I'm super happy now. I hate to say it, but I find it's improved my social life and my work life, because I have a lot more confidence. Now I can go in to a store and say 'this is my size,' and sometimes get a smaller one brought to me.