If unsealed, the documents might shed more light on Lisi's relationship with the mayor and Lisi's alleged efforts to obtain a video that purportedly shows Ford smoking crack.
Documents filed in advance of Wednesday's legal arguments suggest the video was made in February this year, though this is unconfirmed.
The mayor, who on Monday was stripped of the last of his special powers by city council, said during his recent media blitz that he smoked crack only once, and guessed that it happened about a year ago.
The still-sealed documents include some 20 pages of secretly recorded phone conversations that have remained off limits to the public, even as other details of the police investigation have been revealed in recent weeks.
Lisi, also known as Sandro or Alessandro, is facing charges of extortion and drug trafficking.
Lisi and Ford were photographed by police earlier this year making exchanges.
"The question is, what was in those packages?" said Iain MacKinnon, the lawyer representing CBC in court Wednesday.
The mayor has refused to say, and has turned away investigators seeking to question him.
Previously released police documents paint a troubling portrait of Lisi.
Lisi has been described by Ford as a personal friend and occasional driver, but the relationship between the two men was a concern for some of the mayor's staffers. According to police documents, one former employee, Nico Fidani, expressed concern that Lisi would drive Ford around to "hot spots" and "facilitate getting drugs for the mayor."
How long Lisi and Ford have known each other is not clear, but Lisi is related to someone who went to high school with Ford's brother, Coun. Doug Ford.
Lisi also has a criminal record, including convictions for threatening death, assault and criminal harassment. He has been charged — but never convicted — of offences ranging from mischief to harassment to marijuana possession.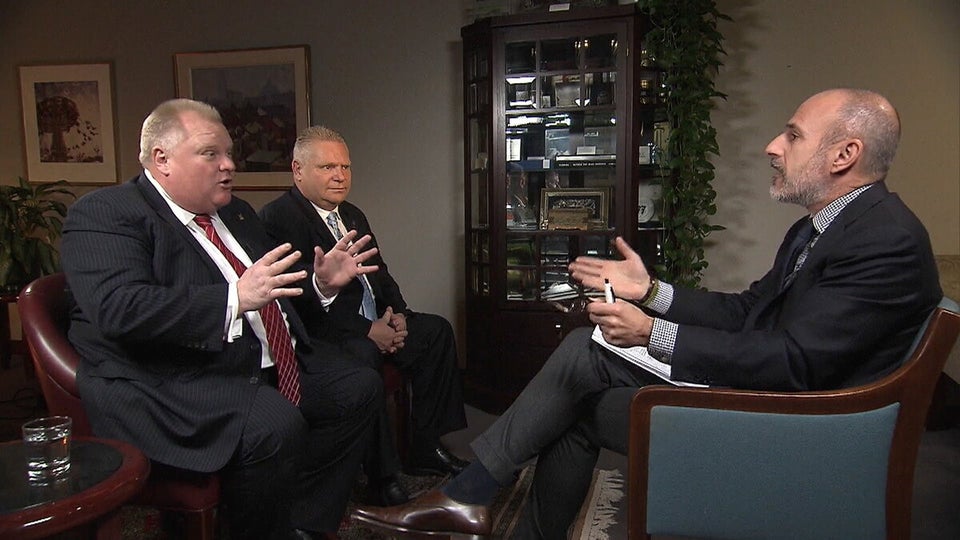 Best Photos From Rob Ford Crack Scandal