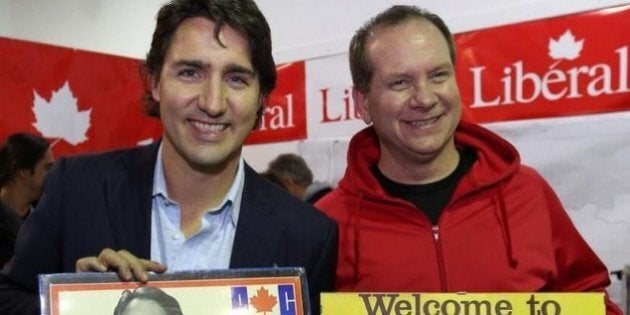 Though the Manitoba riding has long been considered a Tory fortress, a recent poll suggests Grit candidate Rolf Dinsdale is now five points ahead of Tory Larry Maguire, a former Manitoba MLA.
The letter rips Trudeau's support for legalizing marijuana and accuses Liberals of being soft on crime in light of their leader's opposition to mandatory minimum sentences.
"Justin Trudeau's plan to legalize marijuana will make it more accessible to our kids and encourage recreational drug use," it reads. "This is the wrong message to send to our children."
Trudeau maintains that legalizing, taxing and regulating the drug will actually help keep it away from kids.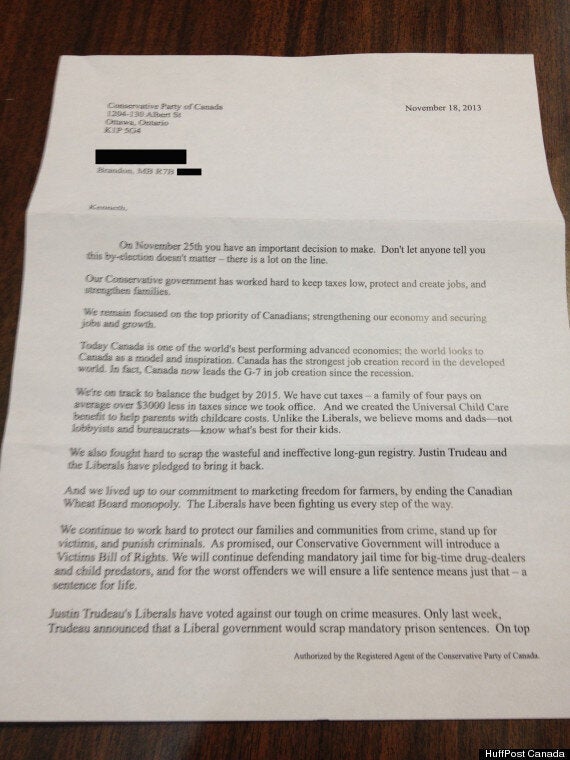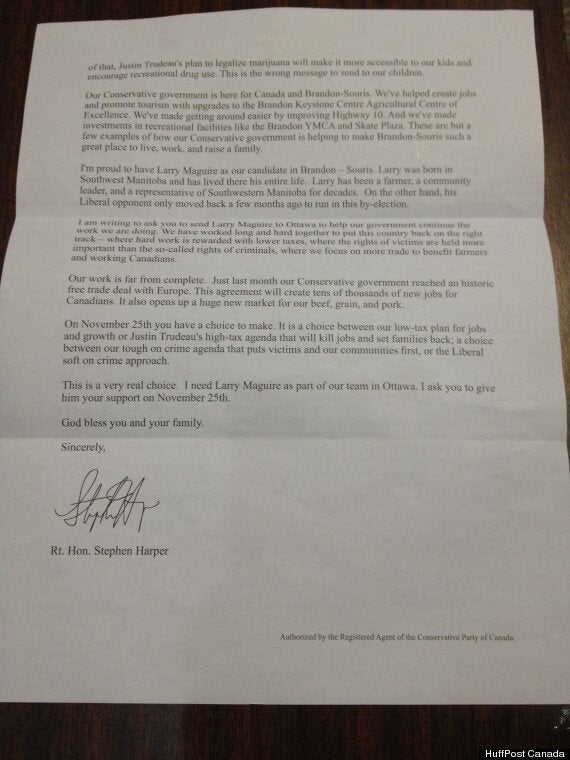 Harper also writes that Trudeau and the Liberals have pledged to bring back the long-gun registry, but the Liberal leader previously called the registry instituted by former Liberal prime minister Jean Chretien a "failed" policy he won't revisit.
Unsurprisingly, the letter also sings the praises of Harper's Conservative government, from tax cuts to job creation.
But the letter also contrasts the local candidates vying to replace former Tory MP Merv Tweed, who resigned this summer to become president of Omnitrax Canada.
"I'm proud to have Larry Maguire as our candidate in Brandon-Souris. Larry was born in Southwest Manitoba and has lived there his entire life. Larry has been a farmer, a community leader, and a representative of Southwestern Manitoba for decades," it reads. "On the other hand, his Liberal opponent only moved back a few months ago to run in this by-election."
Dinsdale recently moved back to Brandon from Toronto, where he worked for Segal Communications, but he has deep roots in the riding. His father, Walter Dinsdale, represented the area for 32 years as a Progressive Conservative and his grandfather, George Dinsdale, was also a mayor of Brandon.
In 2011, Conservatives won the riding of Brandon-Souris in a landslide. The Liberals placed fourth, behind the NDP and Green Party.
Maguire was acclaimed as the nominee after Chris Kennedy, a young assistant to Tweed, and Brandon's deputy mayor, Len Isleifson, were disqualified over incomplete paperwork. Many local Tories were outraged and are now vowing to support the Grits.