Hundreds of people lined one of the main streets in downtown Regina known as "The Green Mile," to watch about 50 floats go by, including one for each CFL team.
"It's pretty cold, but I am just so impressed with Saskatchewan, the citizens of Regina. The parade route is lined with people the whole entire way," said Mark Stefan, vice-chairman of the 101st Grey Cup festival committee.
Story continues below slideshow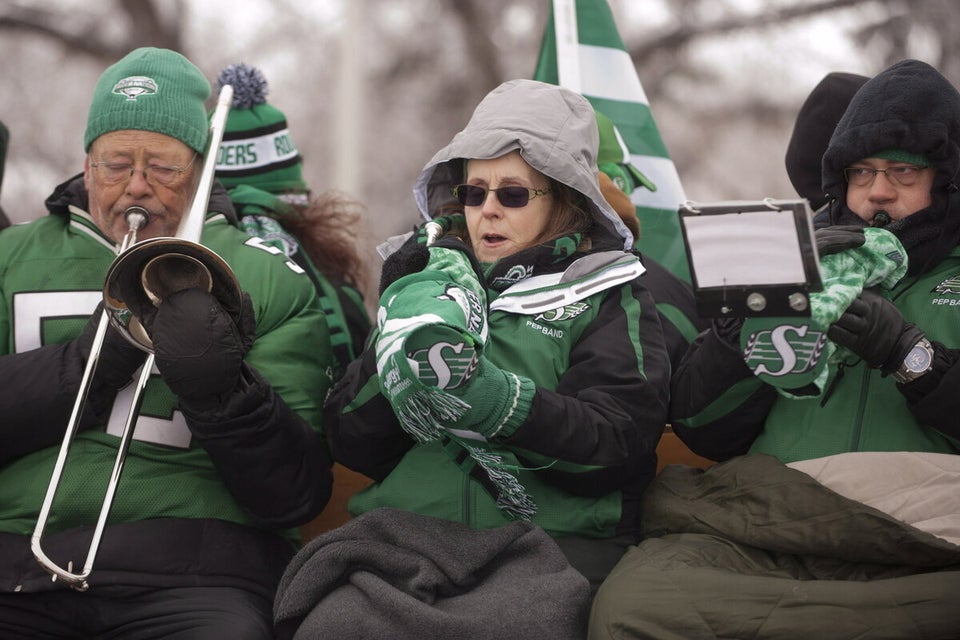 LOOK: Grey Cup Parade 2013
Stefan did not have a number on how many people braved the cold, but estimated it could be a few thousand because they stood three deep in some places along the route. The parade started on Albert St., near the Saskatchewan legislature and marched north towards Mosaic Stadium.
"Given the weather, we weren't really sure what the turnout would be, but I am just overwhelmed. Absolutely," said Stefan.
Some of the fans wrapped themselves in blankets, while others were lucky enough to snag a parking spot close to the parade route and watched it go by from the warmth of their running vehicles.
Saskatchewan Roughriders fan Donavon Beatty, from Regina, was bundled up from head to toe with only his eyes visible.
"I dressed in layers. I've got a little neckwarmer on, some hot packs in my mitts and some warm boots on, so I'm ready to go," said Beatty, 14.
"This is probably a once in a lifetime opportunity that a home team is in the Grey Cup and it's in Regina. It's going to be cool."
The Saskatchewan Roughriders, who won the CFL West Division title, will face the East champions, the Hamilton Tiger-Cats, in the Grey Cup on Sunday. It's the first time the Riders have played in the championship on their home turf.
There was a special fly-by from CF-18 fighter jets from Canadian Forces Base Cold Lake in Alberta.
"Stripes," one of the Hamilton mascots, bounded down the parade route, high-fiving people in the crowd. He paused to take pictures with fans _ most of them dressed in Riders green and white.
"Gainer the Gopher," the Saskatchewan mascot also got a big cheer from the crowd as he walked near the end of the parade.
The cold didn't damper Winnipeg resident Bailey Baldwin's enthusiasm on Saturday. Baldwin wore his Blue Bombers jersey to the Grey Cup parade.
"This is Canadian football," said Bailey. "I like it quite a bit."
Stefan said the atmosphere has been great and fans of all stripes are also flocking to team parties that have been going throughout the week.
"Calgary fans have been out, obviously closer proximity fans have been out, but really every team is represented. I've seen jerseys from every team and people having lots of fun," said Stefan.