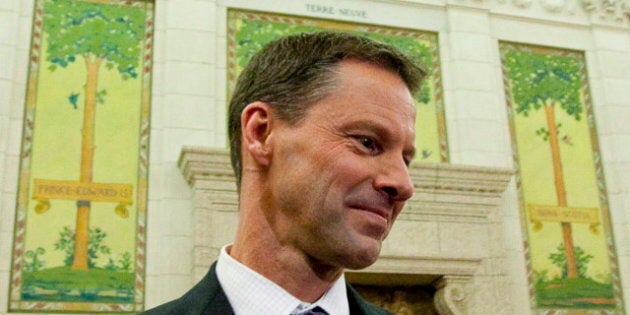 Nigel Wright resigned as Prime Minister Stephen Harper's chief of staff in May, just days after a news report identified him as the source of a $90,000 cheque to repay the ineligible expenses of Senator Mike Duffy.
That payment and audits of the expenses claimed by Duffy and three other senators have touched a growing RCMP investigation.
RCMP court documents released this week outline efforts within the Prime Minister's Office to manage the repayment of Duffy's expenses and avoid embroiling him in the audits by Deloitte and a Senate committee. The documents also allege there is evidence Wright and Duffy committed bribery, fraud against the government and breach of trust.
Here's a look at what the documents reveal about Wright, who has stayed largely silent since he left the PMO last spring.
1. He doesn't need the money
During his three years as chief of staff for Prime Minister Stephen Harper, Nigel Wright did not make a single expense claim. Not for meals. Not for hotels. Not for travel while on government business.
Wright admits he is "financially comfortable" after working for many years in the private sector. He was most recently managing director at Onex, a private equity firm. Wright tells the RCMP he is "out of pocket tens of thousands of dollars" because he did not claim expenses while doing government business. Wright is also still out the $90,000 he used to pay Duffy's expenses and another unexplained $60,000 in legal fees on a mysterious unrelated matter that Senator Irving Gerstein offers to pay at one point.
2. Wright believed Duffy at first
Wright believed Mike Duffy had followed the rules about expense claims. That was made clear when the two spoke by phone on Feb. 7 and the senator told Wright he had been cleared to make the claims. Although Duffy didn't produce permission in writing, Wright tried to make sure the Senate committee on internal economy treated Duffy differently by changing the wording of an early press release about the audits.
For days, Wright was also under the impression that Duffy was going to pay back his expenses. From Feb. 11 to Feb. 19, Wright told Duffy at least three times to pay the money back, with no success. On Feb. 11, Wright tells another PMO staffer, "I met with Duffy today. He will repay, with a couple of conditions…"
It wasn't until days later, after another phone conversation with the senator, that Wright realizes Duffy is balking at repaying the money.
3. Wright ran out of patience
By Feb. 20, he is clearly fed up with Duffy. In response to an email from Duffy claiming Wright says the senator is not in violation of the housing policy, Wright responds, "I did not say that, and if you continue to misquote me, then we will be speaking only through lawyers going forward." On Feb. 26, Wright lays bare his anger in an email after discovering Duffy charged meals and per diems and will owe the Senate much more than initially predicted: "I am beyond furious".
4. Wright tried to influence the audit process
As one of the conditions of the deal, Duffy asked to be withdrawn from the Deloitte audit process. Wright confirms he will try to limit the work done by auditors once Duffy repays the expenses. Wright has trouble getting the senators on the committee to help him so he turns to Senator Gerstein to try to speak with someone at Deloitte directly. On March 1, he emails, "…Today I asked Sen.Gerstein to actually work through senior contacts at Deloitte." Wright also agrees with a suggestion that Duffy no longer co-operate with the audit process to try to limit the damage.
5. Wright didn't think RCMP would get involved
Wright has now been questioned by the RCMP and provided hundreds of emails, but he did not believe in the beginning that any of this would be subject to an RCMP investigation.
In February, when Liberals first start talking about sending the matter to the RCMP, Duffy emails Wright with his concerns. Wright responds, "I can't figure out why the RCMP would have anything to do with this - unless there is clear fraud, which I have never heard."
In May, Wright again writes, "I personally don't think that Mike committed a crime at all - if I did I would have pursued a different course."
In spite of this, Wright told the RCMP he flatly denied one condition suggested by Duffy's lawyer: that the matter never be referred to the RCMP.

Highlights From The Wright-Duffy Police Documents