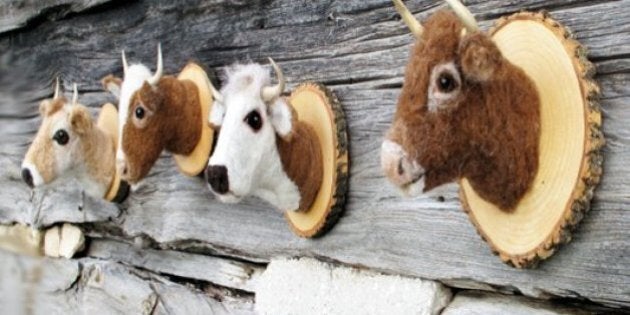 If neighbourhood craft shows are like Santa's elves, helping you find what you may want to buy your loved ones, then going to Toronto's One of a Kind (OOAK) show is like walking into the North Pole itself.
The biggest public craft show in North America, the OOAK Show literally has something for everyone. Showcasing handmade gifts from over 800 Canadian artisans, the show makes anyone who's ever spent time on Etsy feel like a little kid in a candy store — complete with the sugar crash after a couple of hours.
Running from November 28 to December 8, this year the show is focusing on local materials and ingredients, wherever in Canada the artist is from. And being purely Canadian, there was definitely a cozy theme felt throughout, with textures and patterns that make it easy to picture cuddling up beside, say, your mounted felt cow head.
So if you're on the hunt for the perfect holiday gift that's anything but typical, we've rounded up 20 of our favourite finds. We've also included the artisan's sites so you can either shop their wares or get in touch to find out where they're sold.