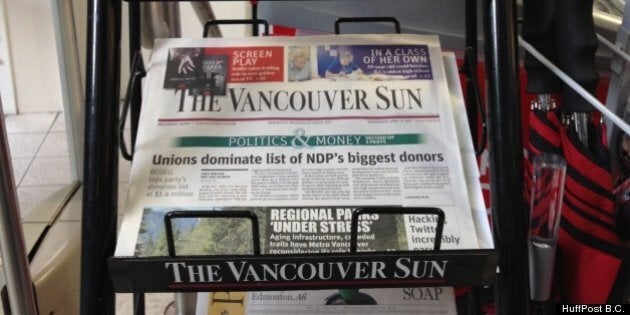 Following the September news that it was selling its Kennedy Heights printing facility in Surrey, Postmedia announced today that it will outsource the printing of its papers The Vancouver Sun and The Province.
When the media company's Surrey printing plant closes, TC Transcontinental Printing will print The Vancouver Sun, and Black Press Group Ltd. will print The Province, states a press release. Transcontinental also reportedly took over the printing of Postmedia's Calgary Herald this month, J-Source reports.
The announcement follows the breakdown of talks between Postmedia and the union that represents its employees earlier this month, increasing the chances of a labour dispute when the collective agreement expires in 2014, notes The Tyee.
"They can lock us out or we can go on strike," Unifor Local 2000 vice-president Gary Engler told the online news organization. "Of course, we have the right to picket and all of those sorts of things."
Kennedy Heights is set to close in 2015, according to the Media Union of BC.
The Western Canada closings are part of a three-year transformation program aimed at saving 15 per cent to 20 per cent in operating costs. In July, the company announced a loss of $112.2 million in the most recent quarter.
Paul Godfrey, Postmedia's chief executive officer, and the man charged with navigating the current cost-cutting, saw his own compensation rise by 50 per cent over the last year, according to The Globe And Mail, with a take home package of $1.7 million.
Like this article? Follow our Facebook page

Or follow us on Twitter