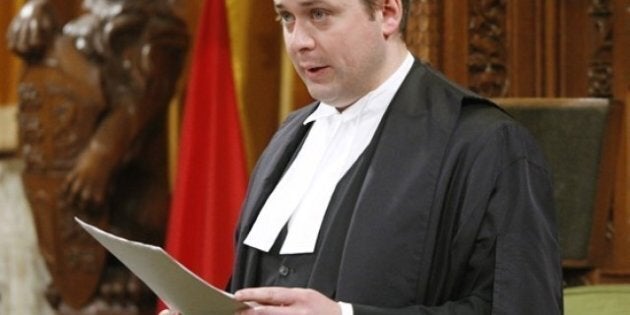 Depending on whom you ask, either a miscommunication or politics was to blame for the lack of unanimous consent behind a Liberal MP's proposal to hold a minute's silence in the House of Commons Monday to commemorate three Canadian soldiers who died in separate apparent suicides last week.
In a phone interview with CBC News on Monday afternoon, Liberal MP Jim Karygiannis said he approached Veterans Affairs Minister Julian Fantino and NDP MP Peter Stoffer 20 minutes before question period with the proposal for a moment's silence for Warrant Officer Michael McNeil, Master Cpl. William Elliott and Master Bombardier Travis Halmrast.
"In conversation and consultation with the member from Sackville-Eastern Shore (Stoffer) and the minister of veterans affairs, I believe you will find unanimous consent that this House hold one minute of silence in commemoration of the three service personnel that died last week," Karygiannis told the Commons after question period.
But when House of Commons Speaker Andrew Scheer sought the unanimous consent of the House, he did not get it.
"No, no, there's no consent," said Scheer, looking unsure.
Remembering Cliff Chadderton
It appears the Conservatives and New Democrats thought Karygiannis was asking for a minute of silence to commemorate the passing of former War Amps CEO Cliff Chadderton — a proposal that did receive unanimous consent.
"I understand there have been consultations among the parties and I would therefore invite all honourable members to rise for a minute of silence to commemorate the passing on Saturday, Nov. 30 of World War II veteran and former War Amps of Canada CEO Cliff Chadderton," Scheer said.
At 3:03 pm, MPs ended question period by observing a minute of silence for Chadderton, who died on Saturday at the age of 94.
"Minister Van Loan gave approval for a minute of silence for Cliff Chadderton," a spokesperson for Van Loan told CBC News in an email.
"No one ever discussed with him the additional moment of silence," said Van Loan's press secretary Dan Chomski.
In a telephone interview on Monday evening, NDP House leader Nathan Cullen concurred.
Cullen said that Karygiannis's proposal for a minute of silence for the three soldiers was "news to him." The NDP thought the Liberal MP proposed one minute's silence for Chadderton.
Karygiannis told CBC News he would try to seek bipartisan consent again on Wednesday, but moments later the Liberal MP sent out a press release blaming the Conservatives and New Democrats for denying unanimous consent to commemorate the soldiers.
"It is very unfortunate that we were not able to recognize the three military personnel that we lost last week. We ask these men and women to serve our country and the least we can do is to pay tribute to them in the House of Commons," Karygiannis stated in the written statement.
Cullen told CBC News he found Karygiannis's press release "disgusting" and "distasteful."
"I'm always wary of anyone playing politics on the back of our soldiers," Cullen said.
The Canadian military said it will investigate the suicides of the three veterans.