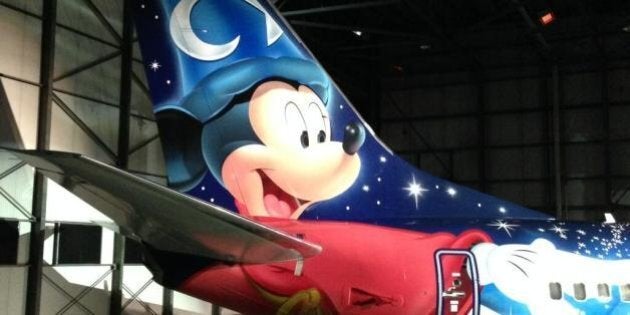 It's a bird. It's a plane... no, it's Sorcerer Mickey?
Because little kids didn't find airplanes enthralling enough before, a new Disney-themed WestJet Boeing 737 just made it impossible for young children to look away.
In an unveiling that saw hundreds of WestJetters cram into one of the company's hangars in Calgary's northeast, and complete with electric Mickey Mouse ears, Disney's orchestral theme, and the big mouse himself, the curtain was pulled on the first every Disney-themed plane in Canada.
The company's 737-800 airliner, which is painted blue, rather than the standard WestJet white, sports stars all along the sides and a four-storey tall, wand-slinging, sorcerer Mickey Mouse on the tail.
Inside, passengers entering the cabin will be greeted by the Disney logo, stars on the headrest and more stars in the restrooms, said WestJet president and CEO president Gregg Saretsky.
"This plane will fly everywhere in our network. It'll be in 18 countries, 35 cities and you'll see it all over, all over Canada and all over the U.S.," he said.
"Kids will be pressing their noses against the glass at the airport as this airplane taxis by."
Story continues below slideshow
Click through the gallery below for some tantillizing facts about the Magic Plane.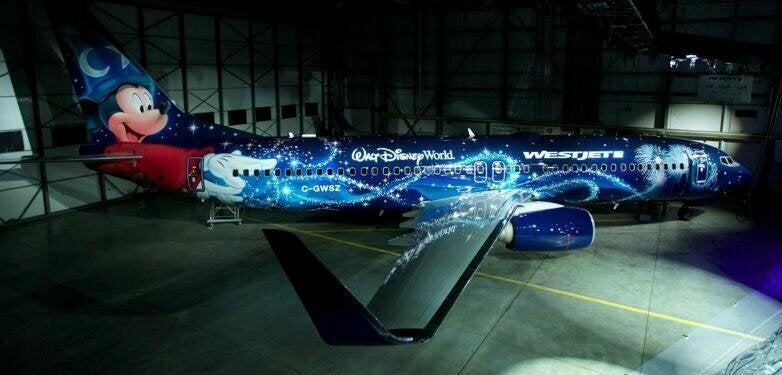 The custom paint job covers very inch of the plane's surface and, apart from serving as a flying billboard for Disney, the airplane helps cement the long-standing relationship between WestJet, WestJet Vacations and The Walt Disney Company, said Saretsky.
The idea for the Magic Plane, as WestJet and Disney call the airliner, is a perfect fit for the two companies, said Marlie Morrison, Managing Director, Marketing and Sales, The Walt Disney Company (Canada).
"WestJetters are the first point of contact for many of our Walt Disney World guests embarking on their memorable family vacations," she said, adding that bringing the concept to life was a year-and-a-half long process that required the efforts of large number of people to execute.
And keeping the whole thing under wraps was a very difficult thing to do, said Saretsky, adding the plane was painted in Washington State.
The veil of secrecy over the entire project from beginning to end was such that he himself didn't see the plane until Monday morning.
"We didn't want any airline gawkers to take pictures of it leaving Seattle, so we had to wait for darkness," Saretsky said.
"And, of course, it rolled in here late last night in darkness as well."
There are other Disney planes flying in the U.S. and Asia, said Saretsky, "but I think this is the most beautiful."