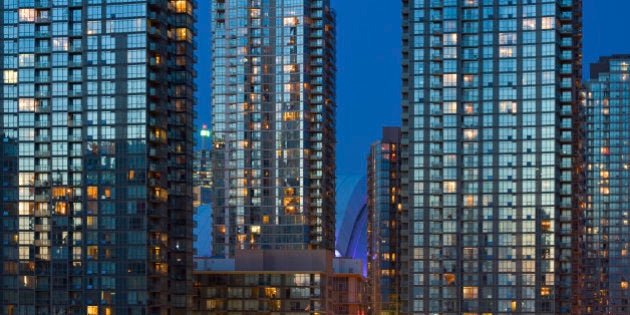 Condo developers in Canada's three largest metropolitan areas are building too many condos — 36 per cent to 68 per cent too many, according to a new study from Royal LePage.
As a result, condo markets in Toronto, Montreal and Vancouver will experience some "turbulence" as developers shift down the amount of construction, economist Will Dunning said in the report.
But Dunning says fears of a potential bubble in the condo market are unfounded, because demand for them will remain high in the face of a growing shortage of rental units, among other reasons.
"An essential element of a 'bubble' is that demand becomes divorced from economic fundamentals and that has not occurred in the markets for condominiums," Dunning wrote in the Royal LePage report.
All the same, the situation as it stands suggests condo construction is well above projected demand.
Dunning estimates that the three cities will require between 26,000 and 32,000 new apartment units every year over the next 20 years, but in recent years, developers have been starting units at an average rate of 43,774 per year.
That works out to between 36 per cent and 68 per cent too many condos.

This chart from economist Will Dunning shows condo construction starts in Canada's three largest cities compared to estimated demand for condos. "Stable choice rates" represents a low-ball estimate for condo demand; "shifting choice rates" represents the high end of the estimate for condo demand.
"It is likely that future construction will slow to levels that are more in line with the growth rate and evolving demographics of the population," Dunning writes. Over the next few years, Dunning says, "there may be some instability" in the market as it settles into a new, slower normal.
Developers may have noticed the gap between supply and demand. Dunning notes that there is a discrepancy between the number of condo units started and the number completed in recent years, suggesting a "bottleneck" of condos that have been delayed or will not reach completion.
But Dunning expects demand for condos to remain high in the medium and long term, in part because he expects a larger share of today's youth to move into condos than was the case with their parents.
Other research has suggested this could be the case. Canada's urban infrastructure has not been keeping pace with population growth, meaning major cities in the country are experiencing escalating gridlock problems.
That is pushing more and more people to live in high-density areas close to where they work, PricewaterhouseCoopers (PwC) said in a recent report.
The Royal LePage report found that just under 15 per cent of households in the three cities are condos (for the country as a whole, it's about eight per cent), but more than one-third (37.7 per cent) of all new home construction in recent years was condos.
Dunning says demand for condos will be held up by demand for rental units. Many condos are bought by investors who intend to rent out their apartments, and very low rental vacancy rates in the major cities suggests there is a shortage of rental housing in Canada, Dunning suggests.
With standalone house prices in major cities moving out of affordability range, many homebuyers simply have no choice but to buy condos.
The benchmark price of a detached house in Greater Vancouver is now $922,600, the city's real estate board reported last month, while condos go for $365,600, on average.
In Greater Toronto, the average price of a detached house in November was $671,000, according to the Toronto Real Estate Board. An average apartment unit goes for $361,000.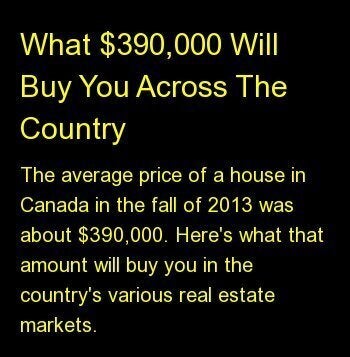 What $390,000 Will Buy You Across Canada