Croatia's decision to ban gay marriages sparked angry outcry from international observers -- and one particularly irate response from a prominent local journalist.
On Sunday, a reported majority of Croatians voted to outlaw same-sex unions with 65 per cent of those who voted answering "yes" to the referendum question: "Do you agree that marriage is matrimony between a man and a woman?"
The outcome was celebrated by the conservative regime in the European Union's latest member country, along with 'In the Name of the Family,' the Church-backed organization that pushed for the referendum.
"We want to show clearly that the majority of people in Croatia is convinced that marriage is only a union between a man and a woman," the group's head, Zelja Markič, told German broadcaster Deutsche Welle.
The results, however, were roundly condemned by investigative journalist Domagoj Margetić, who didn't mince words in his tweet.
(WARNING: Extremely coarse language ahead.)
"Open Letter to Markič, her Ustasha initiative and everyone who voted ''FOR'': I fuck your narrow-minded, primitive, fascist, Ustasha mother. And like that three thousand times. That's the only answer you deserve you cunt Ustasha fascist motherfucker."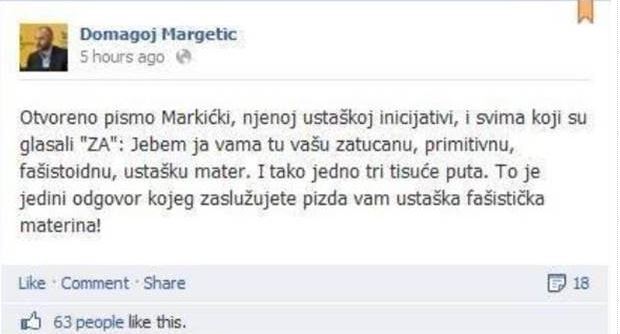 Ustasha, also spelled Ustaša, was a Croatian fascist movement that ruled the Independent State of Croatia during the Second World War.
The rest of the Tweet's meaning, of course, goes without saying.
Apparently, Margetić would later feel the same way -- and delete his tweet.
Also on HuffPost
Gay Marriage Around The World