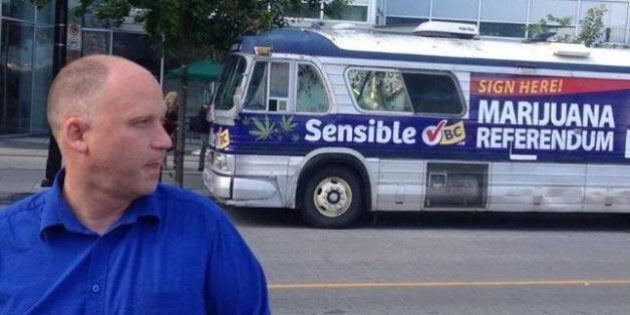 The deadline for the petition for marijuana decriminalization to be handed into Elections BC is Monday, and it's expected to fall well short of the threshold required to trigger a referendum. The most recent estimates peg the petition at around 200,000 signatures, when they need approximately 400,000 to force a vote.
Campaign director Dana Larsen blamed a number of factors for coming up short — a difficult initiative process, not enough organization in some ridings — but he said a persistent stigma around marijuana was one of the biggest factors that stopped people from putting their name to paper.
"There's a lot of people who would tell us they support what we're doing and they're behind us but they don't want to sign because they're afraid they'll lose their job, they're afraid that they can't cross the border, they're afraid the RCMP will get this list," he told The Huffington Post B.C.
"I didn't anticipate that level of fear of engaging in the political process."
Beyond those issues, Sensible BC also came at a time that momentum began to shift in favour of legalization and the regulation and taxing of cannabis, over decriminalization, which would mean simply relaxing enforcement of marijuana laws.
An Angus Reid poll commissioned by pro-legalization group Stop the Violence BC from Oct. 22 to 24, 2012 found that 75 per cent of respondents supported taxing and regulating the adult use of marijuana, compared to 69 per cent in 2011.
That same poll found 62 per cent approval for decriminalization among those same respondents, up from 59 per cent in 2011.
"It doesn't mean there's not a huge amount of support for decriminalization," Stop the Violence founder Dr. Evan Wood told The Huffington Post B.C.
"But I think people see what's happened in the United States and, even in advance of that, recognized that taxing and controlling this market made a lot of sense."
Larsen himself admitted it's possible that public opinion has shifted in favour of legalization over decriminalization, but he doesn't feel that the trend had much effect on the campaign.
"I think most people who want to sign, they don't really care what the wording is," he said.
With the campaign over, Sensible BC may take TransLink and BC Ferries to court after canvassers were forced to move off their properties in a series of incidents.
In the case of TransLink, canvassers had set up a table and were taking signatures in fare paid zones before being told to leave the premises. Canvassers were later permitted on TransLink property again, but they did not venture into fare paid zones.
Conflict arose with BC Ferries in November when volunteers were taking signatures at the Tsawwassen ferry terminal before being told to leave, as the corporation does not allow canvassing on its properties.
Larsen has also looked at starting the initiative over again, though he hasn't yet set a date for when that will happen.
His assessment of the first attempt?
"I would have been happier if we got all the signatures we needed, but we always knew this was a very difficult effort going in," he said.