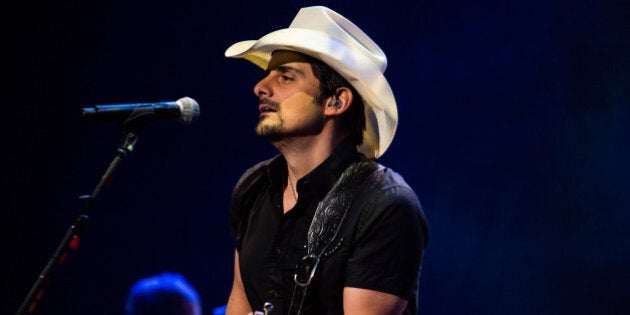 With any luck, 2013 will be remembered as a transitional year in country music.
For a notoriously conservative genre -- you'll still find less variation in instrumentation, aesthetic, and even vocal performance on a country radio station than anywhere else on the dial -- the story of the year is of a new liberalism bubbling up. Primarily associated with three interconnected emerging artists, Kacey Musgraves, Brandy Clark and Ashley Monroe (all of whom co-wrote their best work with Shane McAnally, the secret throughline in all of this), this new liberalism is thoughtful, critical, and unafraid of firing arrows at the sacred cows of traditionalism.
Take a look at this eclectic list. We'll move from country-rock storytellers like Jason Isbell to the kitchen-sink-on-the-back-porch of Valarie June, from the shimmery country-pop of Caitlin Rose to the ultra-traditional Daniel Romano, and from the plain-Jane simplicity of The Good Family to the miles-over-the-top bravura of Brad Paisley's own attempt at a progressive, yet radio-friendly record.
If there's anything that binds these records to one another (apart from my having loved them) it's that each of them troubles the very idea of "country music" as much as it is itself a "country record." Each of these albums -- and country music's new liberalism in general -- adopts a critical distance from its own form, recognizing as it does the paradoxical relationship between a fundamentally conservative musical language and the artists' own desires to carry it into less familiar territory. "Same trailer, different park," indeed.
And what's especially heartening about this is how many of these artists have succeeded in finding audiences. They've demonstrated that there is a thirst out there for country music that embraces social critique before social convention, or "weed instead of roses," as Monroe puts it on her ode to the relationship-saving virtues of dope and BDSM sex.
Gay-friendly (McAnally is out and married), pot-happy, marriage-questioning, convention-mistrusting, religion-doubting, racism-confronting and ignorance-mocking, this kind of political consciousness feels less at home in our stereotypical notion of Southern America than the "I Drive Your Truck" (Lee Brice) or "Boys Round Here" (Blake Shelton) version that dominated the charts all year.
Indeed, though radio is still somewhat ambivalent to the trend, Musgraves has received industry recognition, winning a CMA for best new artist, which is a hopeful sign. Here's to more of that in 2014.