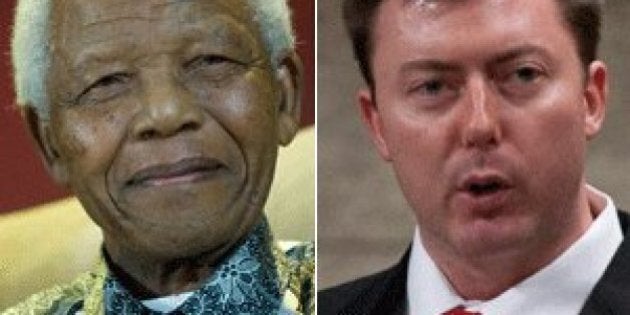 It appears Rob Anders still believes Nelson Mandela was a terrorist.
The outspoken Conservative MP was the sole parliamentarian to vote against making Mandela an honorary citizen in 2001, preventing the motion from passing unanimously.
Anders, a Canadian Alliance MP at the time, infamously labeled the anti-apartheid leader and former South African president "a terrorist and a Communist."
"Nelson Mandela advocated violence and used violence to achieve his aims," he said. "It is very politically correct to go ahead and lionize him, but there are problems in South Africa today and we are glossing over these things."
Then-Prime Minister Jean Chretien responded by blasting Anders as "stupid."
"I wish South Africa peace," he told her.
The obit argues Mandela left behind a mess in South Africa and isn't worthy of the "unhinged adoration" he has received across the political spectrum.
"Mandela began as a terrorist and never turned his back on monsters like Arafat and Castro, whom he considered brothers in arms," Horowitz writes.
Stone sought out an interview with Anders but the MP suggested his views about Mandela are clear.
But many other Conservative MPs and ministers shared condolences after Mandela passed away Thursday.
"The world has lost one of its great moral leaders and statesmen," Harper said.