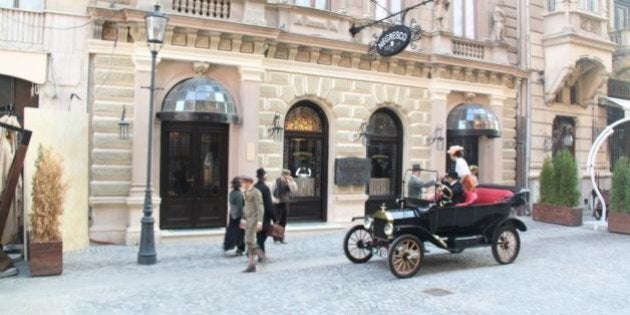 LANGLEY, B.C. - About 45 minutes south of Vancouver, on a farm field surrounded by vineyards, sits a village from another century. The place is called "Coal Valley," a fictional frontier town erected earlier this fall for the series "When Calls the Heart."
Production designer Brentan Harron walks a few reporters through a series of row houses hammered together in 3 1/2 weeks. Each is spacious enough for cameras but designed to look like the kind of modest dwelling one might have found in a coal town circa 1910.
That's the setting for "When Calls the Heart," a heartwarming family drama coming early in the new year to Super Channel in Canada and the Hallmark Channel in the U.S.
The series is based on characters created by Alberta native and inspirational fiction author Janette Oke. Her "Love Comes Softly" series has been adapted into numerous Hallmark Channel Original Movies.
"When Calls the Heart," which will premiere late winter/early spring on Super Channel and in January on Hallmark in the U.S., is the latest indication that after a decade of dark dramas such as "Breaking Bad," "Sons of Anarchy" and "Dexter," viewers are ready to embrace programming that is more heartwarming than harrowing. As executive producer Michael Shepard suggests, there's an underserved audience for programs with drama and action but also "a whole bunch of romance, shows that really touch the heart."
It may be no accident that some of these shows hearken back to another time and place. "Murdoch Mysteries," another turn-of-the-century drama, has exploded in its sixth and seventh seasons to become CBC's No. 1 series. "Heartland," shot and set in rural Western Canada, had been a steady million-a-week Sunday draw for years.
There are other reasons besides settings for why these shows have a retro feel. One of the executive producers of "When Calls the Heart" is Michael Landon Jr., son of the TV icon famed for his feel-good shows from the '70s and '80s such as "Little House on the Prairie" and "Highway to Heaven." Some of these new projects are also short forms or miniseries, a kind of limited-run storytelling that has been out of fashion for decades.
Not that all period shows today are wholesome family dramas. Others come with an edge, especially HBO's often violent "Boardwalk Empire." PBS's frothy soap "Downton Abby," which returns for a fourth season Jan. 5, is like "Dallas" in Edwardian garb. FX's Calgary-based "Hell on Wheels" shows a rougher side to the Wild West.
The executive producers behind "Bonnie & Clyde" (airing Sunday and Monday on History and Lifetime), John Rice and Joe Batteer, know theirs is far from a wholesome family series.
"There's just a lot of gunning going on with those two. It comes with the territory," says Batteer of the notorious outlaws from the '30s. Their version is also bloody, but the producers have tried to show the back stories of the actual crime couple.
What "Bonnie & Clyde" has in common with "When Calls the Heart," says Rice, is an openness at the networks to show more period dramas.
"We've had enough of one show after another being a procedural cop show," he says. With modern digital technology helping to recreate towns from the '30s or even ancient Norse villages on "Vikings," period dramas have become quicker and cheaper to produce.
Back in Langley, Harron says he had a crew of about 25 working on building Coal Valley in less than a month. A small wooden church building was repositioned at the end of a street where a saloon/schoolhouse, a Mountie outpost (complete with jail cells), a mercantile establishment and a cafe were erected, along with offices and other buildings.
These are all more than mere facades, with full interiors, all stocked with oil lamps, nickel-plated cash registers, hand-cranked Victrolas and other antique period pieces. Everything is scuffed and soiled to look like well-worn structures from a coal mining town. Harron says some trimmings came from the set of "Hell on Wheels" in Calgary, along with a Wild West stagecoach drawn by two tall horses.
On that stage on this sunny but chilly December day was Toronto native Charlotte Hegele. She plays Julie Thatcher, a young city girl not quite ready to join her big sister, schoolteacher Elizabeth (Erin Krakow), in this soiled and sloppy western town.
Daniel Lissing, an Australian who plays main Mountie Const. Jack Thornton, also stars.
Hegele — best known for another Canadian period piece, "Bomb Girls" (returning in a just-shot TV movie) — was amazed at the size and detail on this sprawling outdoor set. "They built an entire mine shaft!" she says.
Why does she think period pieces are back in style?
"It's so romantic," she says. "There's something about being transported back in time. You can look at a show and go, 'Wow, that's what my great-grandparents were like.'"
Hegele certainly looks the part, sitting in a ankle-length full skirt, with a big, busy, floral hat held in place with "a hundred pins."
The actress has been told she has a good face for period drama, and finds she keeps getting called back for these kinds of parts. She's fine with that. Friends have said, "'Charlotte, you know how many actresses would kill to do period work and they can't because they don't have the look?'"
Besides, she adds, "I get to wear these cool hats."
While in Langley, B.C., Bill Brioux was a guest of Prairie Productions Inc. He is a freelance TV columnist based in Brampton, Ont.