Star defenceman Brooks Orpik was pounded into the ice on Saturday night, rendered unconscious and carted off in a stretcher.
It was the culmination of an ugly match between the Pittsburgh Penguins and the Boston Bruins.
Earlier in the game, Bruins forward Brad Marchand took a knee to the head after falling to the ice.
You can see the hit by Penguins' forward James Neal at the four-second mark here:
In the scrum that followed, Boston enforcer Shawn Thornton was seen yanking Orpik to the ground and delivering blows to his head.
"They're calling for the Pittsburgh trainer to come off the bench," the announcer says in the clip. "We've got a bad situation here."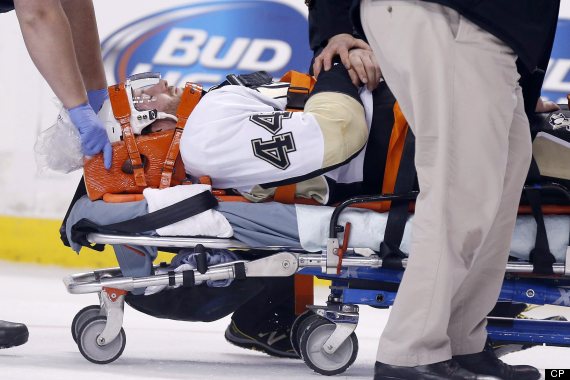 Indeed. Orpik was rolled gently onto a stretcher and carted off the ice. He was taken to Massachusetts General Hospital where he was later described as "alert and conscious," according to TSN.
The Penguins' official Twitter feed posted the following update:
ORPIK UPDATE: Pittsburgh Penguins defenseman Brooks Orpik was taken to Massachusetts General Hospital where he is alert and conscious.

— Pittsburgh Penguins (@penguins) December 8, 2013
Joe Haggerty, a reporter for ComCast Sportsnet reported that Thornton had tears in his eyes after the incident.
"I made a mistake," Thornton told Haggerty. "I can't say I'm sorry enough times. That's all I can say right now."
Thornton was ejected from the match with a game misconduct. He will have an in-person hearing with NHL's Department of Player Safety in the days ahead, CBC News reports.
Also on HuffPost