It sure feels like there hasn't been a lot of good news coming out of Ottawa lately.
The Senate expense scandal, with all its accusations and obfuscation, has annoyed and enraged Canadians of all political stripes.
Question period isn't always productive, with some even wondering if it is a waste of everyone's time.
And the insults and attacks lobbed from one party to another can be kind of depressing.
But since this is the holiday season, HuffPost Canada Politics thought Canadians could do with a reminder that all is not lost.
And despite the many differences between our leaders, there is hope that, at their core, they share some of the same goals.
So, here are a few things that happened in the last week that may make you feel a little bit better about the current state of our politics.
1. When Nelson Mandela died, our prime minister gave a fitting tribute in the House of Commons
Whether you're a Harper supporter or not, the prime minister spoke clearly and eloquently Thursday about what the legend meant to Canada and the world.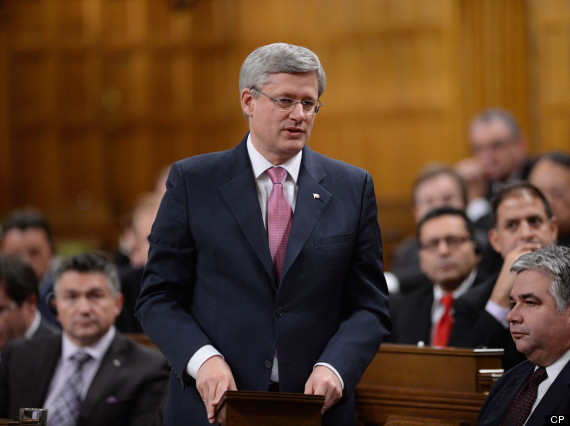 "He showed how people can shape better tomorrows and do so in their own time. Nelson Mandela's long march to freedom, his grace and humility throughout that walk, and the bridge to the future he built for his people as he proceeded along it ensures that his remarkable example will inform others for generations," Harper said.
&nbsp
2. After that speech, NDP Leader Tom Mulcair shook Harper's hand
It may not seem like a big deal, but Mulcair's decision to walk across the floor to congratulate the prime minister reminded us that some things are bigger and more important than partisan politics.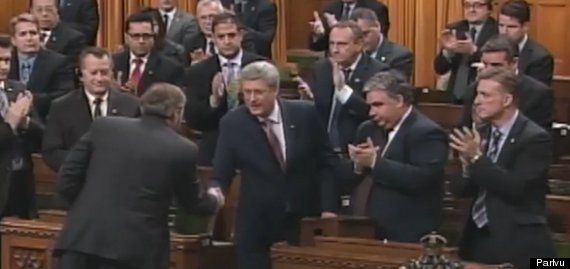 Said one user on Facebook:
"At some point we must set aside the political divisiveness that plagues us and simply be Canadians. Good words from both sides of the House in memorial. Gladdened to see these two men find something that they can shake on."
Mulcair also paid tribute to Mandela in the House.
"Let us learn from this larger-than-life statesman. This is what counts: respect for others and the fact that we are all equals," Mulcair said. "Those are battles worth fighting."
3. The Prime Minister's Office invited former prime ministers to come pay respects
Former Tory prime ministers like Brian Mulroney and Kim Campbell were invited to travel with Harper to Mandela's funeral in South Africa this week, but so too was former Liberal prime minister Jean Chrétien, as well as Mulcair, Liberal MP Irwin Cotler and Stephen McNeil, the new Grit premier of Nova Scotia.
Former PM Joe Clark will join the delegation in South Africa.
The image of Harper sitting with three of his predecessors in such close quarters is something else.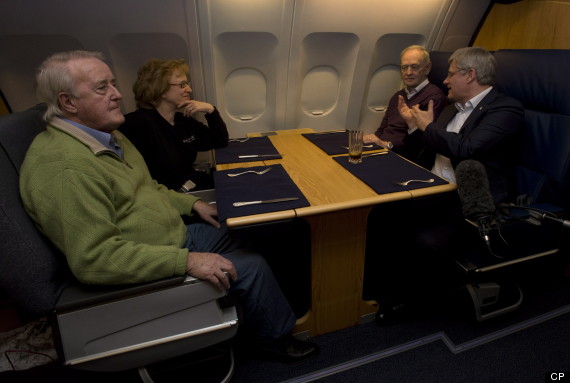 As former Gov. Gen. Michaëlle Jean said: "To see representatives of all political families together going to South Africa to pay tribute to Mandela is totally in the spirit of the man."
4. And it led to this…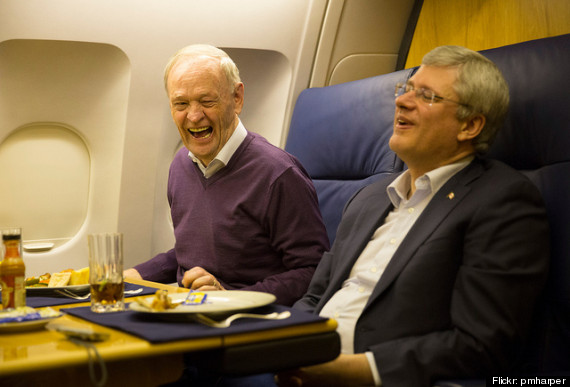 "Sharing a laugh with former PM Chretien on the flight overseas," Harper wrote on his official Flickr account.
One has to wonder what was so funny.
5. Trudeau took a pass, but for the right reason
Liberal Leader Justin Trudeau decided not to join the Canadian delegation to South Africa and instead passed the opportunity to Cotler.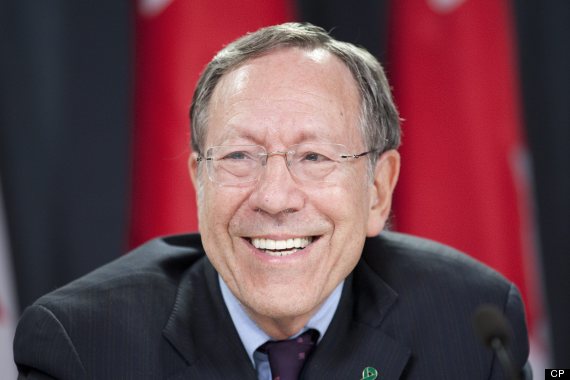 Cotler, a former human rights lawyer, was a member of the anti-apartheid movement and Canadian counsel to Mandela while he was imprisoned.
The MP wrote in Maclean's Friday that he was briefly detained during a visit to South Africa in 1981, when merely uttering Mandela's name in public was a punishable offence.
"In the days since his passing, not only Canadian parliamentarians but people around the world have set aside their differences and united in recognition and celebration of this brilliant and beloved man," Cotler wrote.
6. And if you're still not feeling a bit better, there's this…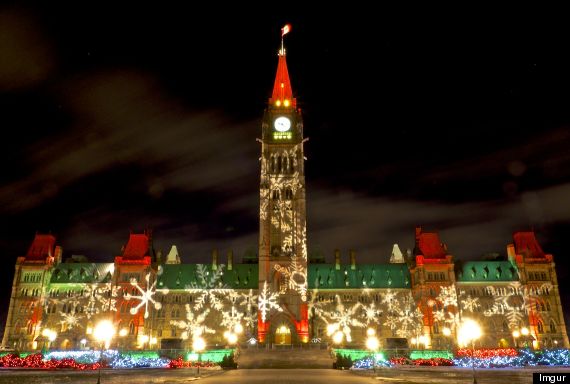 This gorgeous photo of Parliament Hill decorated for Christmas was posted to Reddit Canada over the weekend and is already one of the most popular links on the site, eclipsing other stories of political scandal.
The image may not say anything specific about our politics but it's a nice reminder that the place where power is wielded and big decisions are made can still be rather beautiful.
Happy holidays!
Also on HuffPost