YouTube/Giobonni
Music critics often use terms like smooth and sweet to describe songs or albums, but in the case of Croatian rock star Gibonni it has taken on a whole new meaning.
Tone Deaf reports the musician has released a song entitled "20th Century Man" on chocolate. Yes, melt in your mouth chocolate.
"When I heard of the possibility of making the chocolate version I did not want to miss the opportunity," the musician born Zlatan Stipisic says. "I read that chocolate contains a hormone of happiness and boosts your libido, so I thought it was a perfect combination for the rock based on music we loved in the 1980s. I widened my fan base by singing in English. Now perhaps I will widen it even more when they realize they can eat it after listening."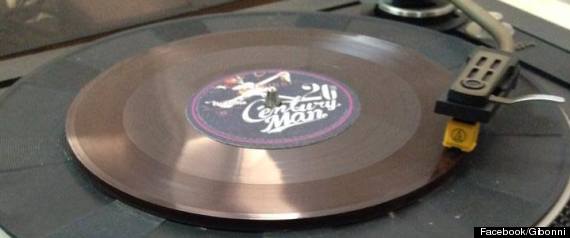 The 33' album will play on a proper turntable for a few plays before it should be eaten. The single -- which the Croatian Times says was created by chocolate makers Nadalina -- was launched at a special "mass eat-in" at Vienna's Gasometer Hall on Nov. 29. There's no word if fans can order the chocolate album internationally but a safer bet might be to listen online and eat a chocolate bar while you do.
Gibonni isn't even the pioneer when it comes to chocolate albums as French musician Breakbot issued music in a chocolate format in 2012, which was available at Paris outlet Colette. Discogs says the single "By Your Side" was released with one side being chocolate and limited to a mere 120 copies.
And although it's not Gibonni's song, this YouTube clip shows a chocolate album being put on a turntable and played.
Also on HuffPost
Photo gallery
Eurochocolate 2013
See Gallery