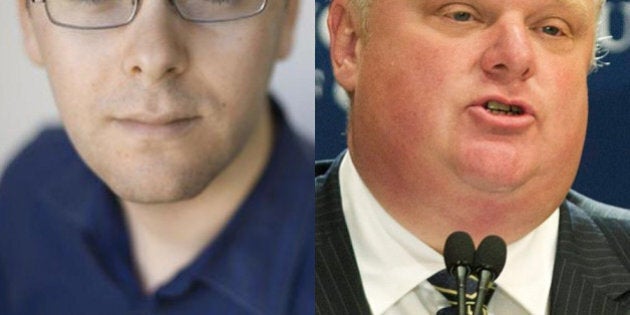 Toronto Star reporter Daniel Dale will sue Rob Ford for saying that the journalist took inappropriate photos of the mayor's children.
Ford made the accusation during a TV interview this week and repeated it on a U.S. radio show Thursday morning.
Star editor Michael Cooke, who has repeatedly said that it would be Dale's decision alone to pursue legal action, broke the news on Twitter Thursday afternoon.
Cooke said Dale will be supported by the Star, including with legal costs, The Globe and Mail reported. The suit is over "the vicious slander about Daniel Dale being a pedophile," Cooke said.
The reporter explained that the move to serve Ford with a libel notice, and to also serve Vision TV, which broadcast the mayor's remarks twice, was necessary.
"As my libel notice says, I'm asking Ford to immediately retract the false insinuation that I am a pedophile and all of his false statements about my conduct on May 2, 2012. I'm also asking Ford and Vision owner ZoomerMedia to apologize immediately 'publicly, abjectly, unreservedly and completely.'
If Ford does not do so, we'll see if he is willing to repeat his lies under penalty of perjury."
The reporter has always maintained he was on public property doing research about the mayor's application to purchase city land near his house.
"I have little kids. When a guy's taking pictures of little kids, I don't want to say that word, but you starting thinking you know, what's this guy all about," Ford said. "And I just lost it."
At a press conference Tuesday afternoon, the embattled mayor of Canada's biggest city was unrepentant.
"I stand by every word I said with Mr. Black in my interview," he said.
Dale denounced Ford's remarks in an interview
"In the calmest terms possible, it is unpleasant when the mayor of the biggest city in Canada essentially accuses you, or suggests, you are a pedophile," he said.
The Star journalist also wrote a column exposing Ford's "vile" lies about him, but expressed a reluctance to sue.